For a wedding gift, my brother-in-law gave us a very bizarre thing. I'm slightly embarrassed to confess that we fell into the cliché of demanding that plates, cutlery and cushions be donated via a large department store, but he ignored such bland instructions, instead posting us a voucher. It caused so much consternation in our new married bliss, that we waited until the day before it expired to use it. Early one Saturday morning we took the train into London, swigging champagne from a bottle to fuel the bravado we thought we'd need, and breakfasted at the Hard Rock Café on Piccadilly. Then we climbed onto a dirty-looking velour sofa in a shade of avocado that could only have been dreamt up in the seventies, and allowed a man on a motorbike to tow us through the streets of the West End. It remains to this day the most fun we have ever had in our lives.
We quickly forgot to be mortified as we sniggered at the faces of passers-by. Strangers were stopping each other to point at us and stare. Taxi-drivers honked their horns as they passed. Our faces started to ache from laughing, and as we stopped at a zebra crossing on the King's Road, a man talking into his mobile combined the words 'and there's a sofa in the middle of the road' into his stream of chatter. We got into our stride, and pretended to watch the portable TV on our coffee table, and admire the fake plant. We were taken to the London Eye for a flight, after which our sofa was replaced with a four-poster bed, complete with duvet, and we made our way back to the starting point.
Sadly, I can't include a photograph or a link, because it appears to be unavailable now – probably a health and safety issue! But it convinced me of the value of an experience over a 'thing,' and whenever I'm stuck for a present idea, it's vouchers like these that I turn to. My husband is notoriously difficult to buy for. A man who once used his credit card to buy himself a house when he was out Christmas shopping, if he wants it and can afford it, he gets it, so when December comes round I'm usually stuck.
Last year though I solved the problem of an unwanted gift, and copied his brother. I gave him 4 tickets for the Faulty Towers dining experience. Growing up in the eighties, Fawlty Towers was an unmissable weekly TV fixture, and I couldn't resist the chance to re-live it. I debated whether the children would enjoy Basil, Manuel and Sybill, but online reviews told me children were welcome, so I found some repeats on Netflix and prepared them for the mayhem. Maddie adored it – slapstick is totally her sense of humour – so we booked ourselves into the Amba Hotel in London's Charing Cross, and nervously awaited our fates.
The Faulty Towers dining experience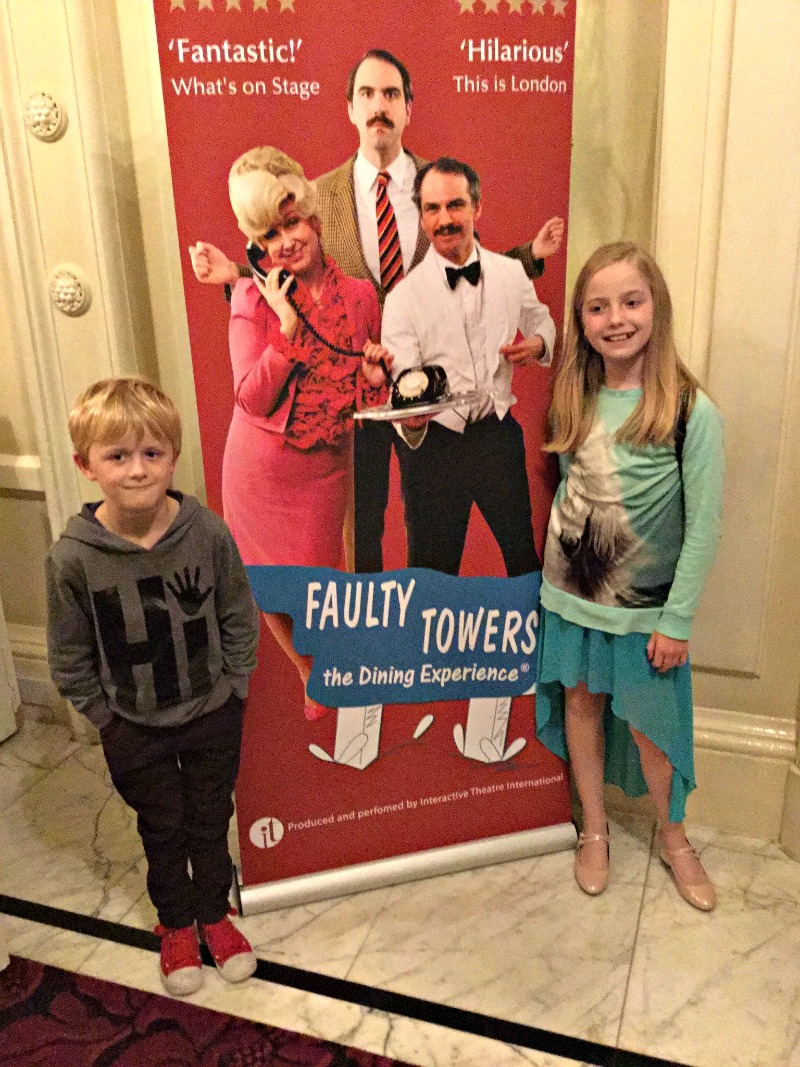 There was polite mingling in 'Basil's Bar' as we swapped apprehensive glances with fellow guests. A G&T gave the adults some confidence, but Evan was unsure, and as Manuel appeared, throwing down peanuts and bumping into people, he looked warily at me, and I could tell he was hoping no-one would talk to him. No such luck. As Basil instructed his Spanish waiter to collect glasses, and admonished him for removing everyone's spectacles from their faces, my eight-year-old sunk further back into the plush curtains, hoping to go unnoticed. When the instruction came for Manuel to start seating guests in the dining room, he made a beeline for us. I knew this could go one of two ways, and as my youngest was taken by the hand and removed swiftly to the next room, I crossed my fingers.
He did well, and we were set for an evening of humour only the Brits can understand – though my fellow table-mates from Sydney claimed to be Fawlty Towers addicts and played their parts very well. As Basil called our names to be seated, he gave a disparaging glare to my husband's All Saints jacket, and we wondered what we were in for food-wise. We'd heard it would be basic, and it was, but we'd read it would be good, and it didn't disappoint. Carrot soup was served (on occasion) with false teeth; cutlery was thrown randomly at the table, the chicken was tasty, and the dessert made of chocolate – perfect food for a family; and when The Bug refused his soup, and became the target of Manuel's insistence, Sybill came to his rescue, making our waiter apologise by drinking his soup from a glass – cold.
Of course, throughout our meal the infamous scenes were played out, complete with improvisation. Get up to go to the toilet and you risk becoming part of the act, but then that's what you expect. If you're shy, this show is not for you. The Hamster was a key theme, and *whispers* The Germans, complete with goosestepping, which brought the house down. Bread rolls were juggled back and forth with willing diners, and one man demonstrated his peanut-catching skills.
Any more will give the game away, but if you're wondering who this show is for – it's for everyone? Small children won't understand, but at eight, Evan got into the swing of things, and at 11, Maddie was in fits of giggles all evening. Completely recommended for families with a sense of humour!
The Amba Hotel is lovely, and brilliantly-located for a weekend in the West End, being part of the Charing Cross station building. Check out more of what we thought of Amba in this review. And if you're a fan of immersive theatre you might like to try this Murder Mystery dinner, or the War of the Worlds – perfect for older kids and teenagers.