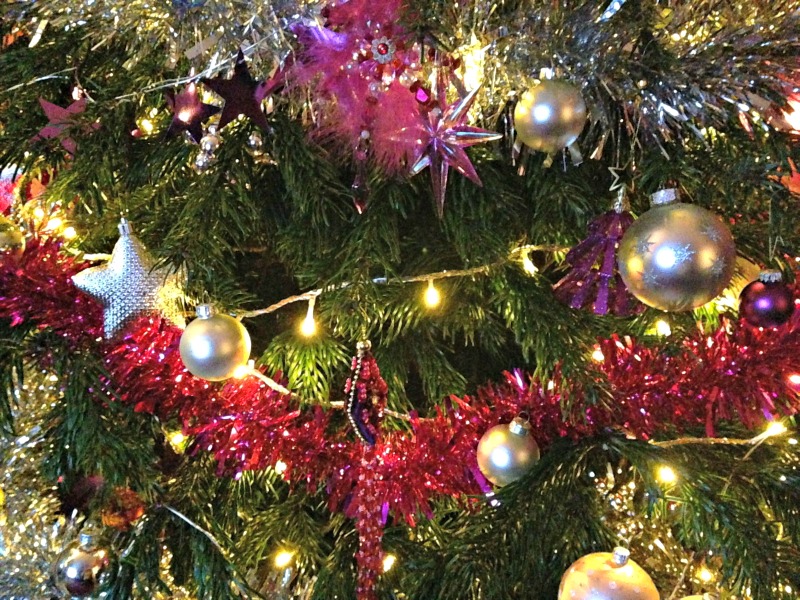 Christmas has started!
I know I'm totally going to polarise opinion here, but ever since I had children, I'm firmly in the camp of kicking off Christmas as soon as possible. There is just so much fabulous stuff to fit in, and I don't want to be a chaotic heap of stress the week before the big day, only to wonder what hit me once the wrapping is off and we're all stuffed full of Christmas pudding. So yesterday our Christmas tree went up.
Often I get carried away with the romance of schlepping to the garden centre and choosing our tree, but the reality is never as good as the dream:
But I like the blue one/ouch that's too prickly/this one drops/have you seen the price we'd be better getting the old one out of the loft/NO! You can't have that one, it won't fit in the car." (Delete as best fits your family).
Online Christmas trees.
Advertorial post with Pines and Needles and Paypal
So this year we avoided the hassle, and had our tree delivered right to our front door, complete with stand, from Pines and Needles. With 20 years experience of installing trees at iconic venues in the UK, these guys know how to choose a good tree, and to prove it, if you're not happy with your tree when it arrives, they'll replace it with no arguments. They're ethical too, growing all their trees on their own plantations, and planting three new trees for every one they cut down.
Our tree arrived on Friday morning, and as I shook out its branches the most divine scent filled the room. That did it, and I couldn't wait for the kids to get home and start decorating. I had taken advantage of not needing to pack it in a car, and ordered a 6 foot non-drop tree, and it lived up to it's reputation; even with the usual wrestling of lights onto branches, the needle clear-up afterwards was minimal.
Yesterday, I began what has become a tradition since the children have been old enough to participate. Mince pies in the oven, mulled wine and hot chocolate at the ready, we hauled out the boxes, and rediscovered all those exciting trinkets we haven't seen in 12 months. As Slade played in the background we dug out Christmas books, singing Rudolphs, and Santa cereal bowls. And got on with the serious business of decorating our tree. We couldn't have spent a happier afternoon, and are well and truly in the festive spirit. There was even time for some extra fun and games, as you'll see from this clip!
Last week
#PayPalMoments
asked me to think about how shopping online has given me back some time for making memories this Christmas, and getting a tree from Pines and Needles has been part of that. We spent a wonderful afternoon just chilling out together doing Christmassy things. Pines and Needles will even deliver decorations and lights if you need them, although I do love taking the children to choose a new tree decoration every Christmas – that's a special moment every year!
Celebrating Christmas with children is magical, and I love that Pines and Needles are donating £16,000 to Britain's larges children's charity, Action For Children this year. It really does feel like a great company to be working with. But if you need another reason to buy your tree from them this year, Pines and Needles are offering a free mini Christmas tree, holly, and mistletoe to Actually Mummy readers, if you quote AMUMMY14 when you check out. How cute are these?
So now I have my shopping all done, my Christmas tree up, and I can get on with the serious business of making Christmas memories with my family. First on my list is doing something creative with these little trees. Any ideas?
Already I'm benefitting from getting a head start on Christmas. Before I do the school run, I'm going to sneak in and put my feet up with a Gingerbread Latte and gaze at my tree. Come on, you know you want to join me really…
*Disclosure: we were given our tree for the purpose of review. All opinion, editorial, and images are our own.