Call me Victor Meldrew if you will, but most of the time I enjoy staying at home. I like my own company, my family (though if you tell my sister I said that I will shoot you with my best stick), and just hanging out with my toys. Going out is – well, it's hard work to be honest: getting dressed, putting shoes on, walking, all of those things are just an irritation, and I prefer to be getting on with life. But on Sunday I was actually keen to leave the house. I surprised everyone, including myself by looking forward to a day at The Big Feastival.
Our review of The Big Feastival:
I like my food, and I knew there would likely be some magnificent samples at The Big Feastival. This tray of macarons is just one such delight we found, and given that my sister is the world's biggest fan of the macaron (to the point where she blackmailed Mummy into making some for the Great Blogger's Bake Off) you can imagine how much time we spent gazing at this tray, despite the wasps.
The food at the Big Feastival, it's what you go for, no?
Well yes; as a lover of chilli squid I was looking forward to the food almost as much as Mummy, and I pretty much made my lunch of the treats I was offered to sample. Chilli oil, Alex James's cheese, salamis, 29 million different varieties of brownie, and the most awesome fudge we've ever tasted from the Yum Yum Tree. What food we did buy was really reasonably priced, according to Mummy, so I feasted on cheese and olive bread, and a giant scotch egg (never buying those dinky naff things from the supermarket again – I demand proper scotch eggs)! With Bear YoYo's for pudding, and smoothies at £1 for 2, Mummy was satisfied that we'd had our vitamins, and we were allowed to buy a bag of very naughty but nice pork scratchings 😉
Whilst Daddy swooned over the Weber BBQ's, Mummy feigned nonchalance (he's getting one for his birthday) and tried hunting down Mammasaurus Blog at the Gin and Tonic bar. There was fresh trout to buy and slap on a BBQ – genius idea, and way cheaper than the much less tasty stuff we've eaten at other festivals. There was local cider, micro-brewed ales, and the Birra Moretti tent, which provided a superb vantage point for the stage, as well as some top-notch "pulled chicken in a beer can" baps. In fact, Daddy was pretty astute in parking us all there for K T Tunstall's set. Beer, food, and entertainment for the kids – I'm told that's what adults go crazy for: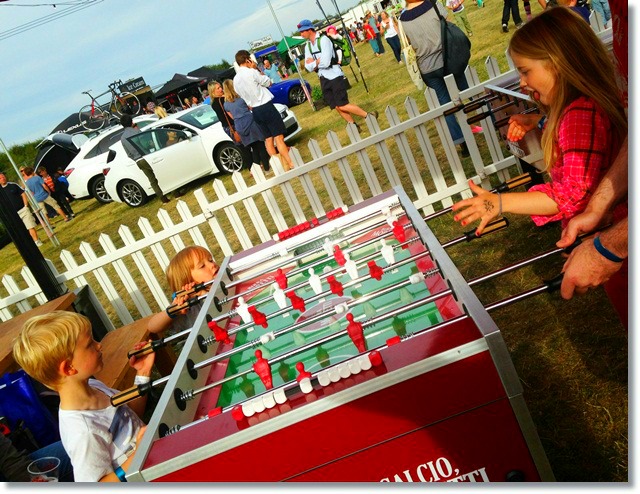 There was any number of food demonstrations we could have gone to, including Jamie Oliver himself – we missed him though and by the time we'd realised, he was moshing on stage to the Cuban Brothers! Tesco kept us well supplied with fruit while we learned to make tomato muffins, and Punch and Judy kept us entertained while M&D drank cider (yes I saw you, don't try to deny it).
The music at The Big Feastival
We've been to other family-friendly festivals, but never found one that keeps the adults happy as well as the children. When M&D first met, they were festival goers, attending the V Festival, and T In the Park quite regularly. They've missed the atmosphere and the opportunity to see current bands live, and with The Basement Jaxx, Rizzle Kicks, Mark Owen and The Feeling, they were occupied and well-behaved, giving me and my sister some peace to play uninterrupted by their unreasonable demands 😉 The only time they whined was when designated driving and tiredness prompted them to declare home-time. Next year we're definitely camping!
How awesome are these colourful teepees? Really simple to make too, and a perfect activity for the school holidays – check out this tutorial to make a yarn teepee.
I did get grumpy at one point – when we left. Shame Mummy didn't make the most of this photo opportunity on arrival:
* Helen says: disclosure we had press tickets to The Big Feastival, although we made a donation to The Jamie Oliver Foundation:
"My charity aims to inspire people to reconnect with food. It's all about raising awareness and individual responsibility, resuscitating dying food culture around the world and, ultimately, keeping cooking skills alive." Jamie Oliver.
There has been a lot of controversy around Jamie's approach and attitude lately, but I for one applaud his no-nonsense attitude to food education, and so what if he uses a bit too much olive oil? It's all down to your own personal preference – what matters is that Britain gets cooking, and teaching our children that at a young age can only improve the health of the nation. Nobody's perfect, but I don't see any other high profile figures trying to change the way we eat!
More Feastival reviews:
More family-friendly festivals: