Tricycles are increasing in popularity all over the world, with cyclists realising they are a much safer and more accessible option for everyone. They are great for the environment and they provide fun for all the family. What's not to love?
This post takes you through all the benefits a tricycle has to offer, so if you are thinking of swapping from a bike to a trike, this is the post to convert you! Check out the list of benefits below:
Accessibility
One of the biggest benefits to adult tricycles are that they are accessible to wide range of people. As they have three wheels and are known to be much sturdier than bikes, tricycles are great for those who are young or old, those that don't feel comfortable riding two wheelers, or for those who have disabilities.
They also provide a user with much more balance and support, so for those with autism or dyspraxia, a tricycle is the perfect choice for transport or exercise.
Safety
As previously mentioned, adult tricycles have three big sturdy wheels. This provides a lot more stability when riding, and means you are less likely to tumble over like you might on a bike. Tricycles are also a lot more noticeable than a bike, because of their large stature so cars and other motorists will spot you straight away. You can be safe in the knowledge that you are very visible and that collisions are unlikely.
Jorvik Tricycles have a large range of adult tricycles on offer, from electric to fold away, so if you are on the hunt for a safer cycling option, Jorvik will have the perfect adult trike for you. To ensure that accidents on the roads are avoided, wearing bright hi-visibility vests, and equipping your tricycle with sufficient lighting is also a good idea.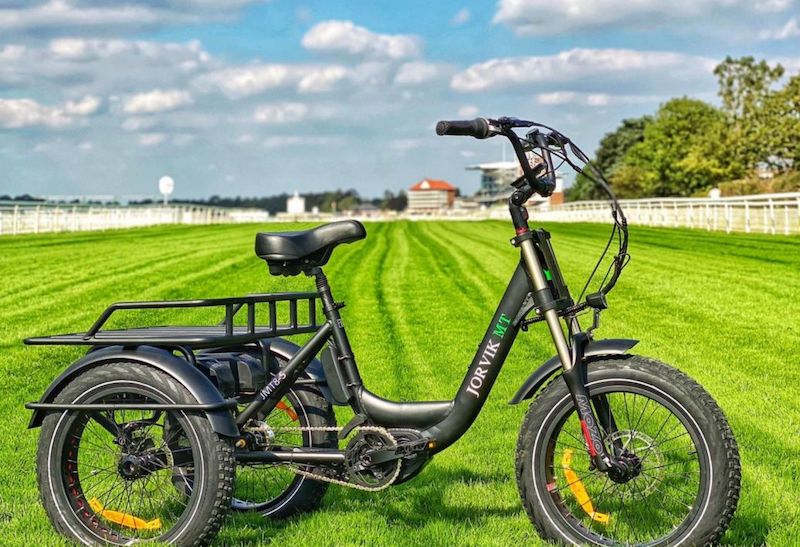 Ease
Adult tricycles are very similar to the bikes you may have ridden when you were younger that had stabilisers attached to them. The only difference is that adult tricycles look much cooler – and they're not just for young children!
Having three fat tyres and a front suspension makes riding on all terrains really easy. Adult tricycles are also much lower to the ground, which makes climbing hills much easier than climbing hills on a bike.
Family
Tricycles make a family day out in nature a pleasurable and stress-free experience. When riding a bike, there is always the chance that someone might tumble over and hurt themselves. They also make carrying cargo difficult. But with a tricycle, you can be comfortable that children will be able to ride them safely, as the two wheels at the back act as stabilisers.
Adult tricycles also allow riders to carry a large amount of cargo with them, whether this is by using a trike trailer or an attachable cargo bag.
Environmentally friendly
Tricycles are great for the environment. And as they are accessible to a wider range of people more of us can help out the environment, by swapping their commute in a car or on a train to riding a tricycle! Some people may want to help the environment out by riding a bike into work, but a lack of confidence prevents them. A tricycle gives much more confidence when riding on the roads.
Mental wellbeing
There is nothing better than getting out in the fresh air to help your mental wellbeing. If you're feeling stressed or overwhelmed, sometimes getting out in nature and exercising is all you need to feel positive. Riding a tricycle is a great way to clear the mind, and to feel at one with the outdoors.
So, do you think a riding a tricycle is for you? With all these benefits, getting a tricycle will be one of the best decisions you make.
If you are unsure what type of adult tricycle would be best for you, get in touch with the team at
Jorvik who will be happy to answer any questions you have.