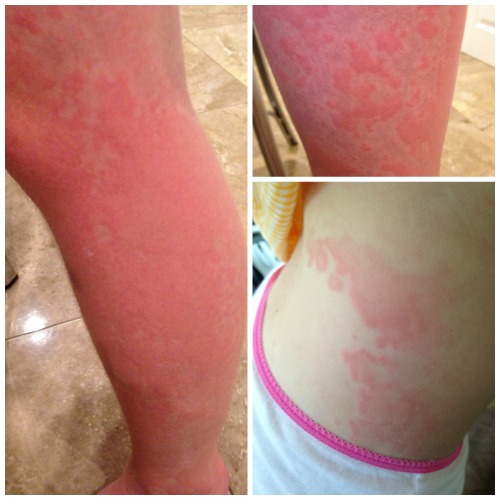 I lay next to her as she slept in my bed, and listened to her breathing. The rash was up again; her beautiful face was covered in puffy, red patches, that were spreading down her neck and shoulders as I watched under the torchlight. It hadn't been there at bedtime, and yet when I checked on her at 11pm she was covered. I had dragged her from sleep to administer anti-histamine, brought her to my bed so I would know if she worsened. She has asthma, you see, my baby girl. What if this sudden – and very dramatic – allergic  reaction happened in her lungs as well?
In the Doctor's waiting room the next morning I scanned Facebook. A friend had shared a story of a mother trying to raise awareness of asthma, a sudden attack of which had claimed her 5 year old boy a few months before. I want to change this, I thought, and friended the mother, so I could help her spread the word of her campaign. But it was too raw. I read her posts in the night, as I waited for the steroids to take effect, for the panic to be over. In the end, I'm ashamed to say that I ignored her posts, running away from the fear they struck into my heart.
My daughter was due to go away on her first school camp. For the first time she would have to manage her own inhalers. Amongst her peers, she would need to speak up if she was worried about her health. No teacher was going to lie by her side at night and check that she didn't wheeze.
She must have picked up on my worries. As I kissed her goodnight on day 2 of this flare-up, she whispered: "Will I wake up Mummy? If I have an asthma attack, will I know? Will you hear me?" I kissed away her tears, and reassured her, with a strength in my voice that I did not feel. Yes, I would hear, she would wake, we would know. Wouldn't we..?
We were lucky; the rash subsided, her teacher kept an eye on her, and she had a whale of a time water-zorbing and abseiling with her friends. But the management of asthma in schools is complicated, and not all schools have a policy of keeping children's medication to hand. Asthma UK, the UK's leading asthma charity, want to overhaul the system with their Inhalers in Schools campaign.
Background on the Inhalers in Schools campaign
There are over 1 million children with asthma in the UK, that's 1 in 11 children and there are, on average, 2 children in every classroom with asthma.

Every single day there are 84 children admitted to hospital for emergency treatment for asthma and the equivalent of a classroom of children die because of asthma every year.
It is currently illegal for schools to have an emergency spare inhaler to use in the event of a potentially life-threatening asthma attack.
Why is this so important?
My daughter's asthma has been well-controlled for many years, but high levels of tree pollen this Spring have seen the onset of hayfever. This in turn has brought on asthma symptoms, and this has been the case for many children over the last few months. The recent high levels of pollution made life even more difficult for asthma sufferers, and environmental triggers are constantly in flux. If you're not convinced yet, the following stats make very scary reading:
79% of children and 88% of parents said they were concerned about the possibility of an asthma attack at school.
Asthma UK also found that one fifth of children (21%) said that they would say nothing and just hope for the best if they thought they might be having an asthma attack at school.
Paul and Karen Linton who tragically lost their son Sam to asthma, after he died at school, are supportive of the campaign. Sam would be 18 years old this year had he not passed away in 2007. Karen adds: "No parent should have to go through what myself and Paul have been through. It is simply unacceptable that schools are not allowed to keep a spare emergency inhaler in their first aid kits. I can't urge parents strongly enough to make their voices heard on this issue. Please, please respond to this consultation so we can change the law and keep children with asthma safe in schools."
What you can do.
The government have recently announced a public consultation on spare emergency inhalers in schools. Inhalers that could be used to help a child in the event of an unexpected asthma episode, and even save a life.
Please visit the Asthma UK page and complete the consultation response. Every response will highlight how important this issue is to children with asthma, and their parents. But please click now – you only have until 30 May to make this difference.
The Asthma UK Helpline offers independent advice about asthma for anyone worried or who would like to talk confidentially to a specialist asthma nurse. It is open weekdays from 9am to 5pm on 0800 121 62 44.