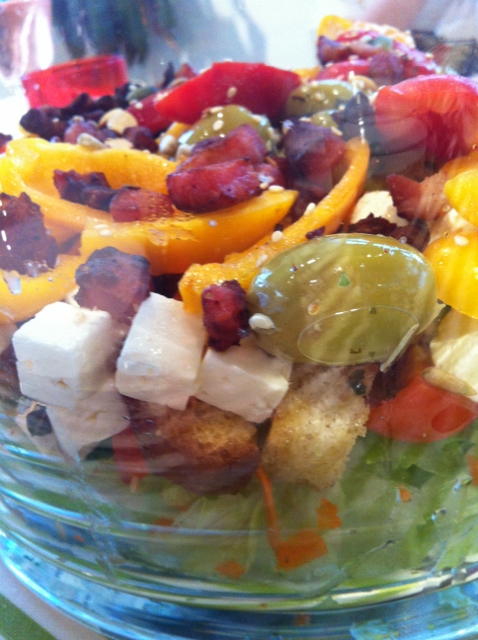 This week Apetina sent us some cheese, and asked us to create a salad recipe. It had to be a salad that succeeds in keeping the kids happy. Lets just ponder that concept for a moment….
Salad+Happy Kids. Hmm…
Mummy began the process by asking for some suggestions, thinking that some democracy might lead us halfway down the path to culinary harmony. Here is our initial list:
Lettuce (the basis of every good salad; I like it, the Bug doesn't)
Tomatoes (the Bug's favourite, I am allergenic)
Carrots
Chocolate
Once again – hmmmm…
Undaunted, we constructed a salad together – would it pass muster??

Apetina Cheese and Bacon Layered Salad (Serves 4)

You will need:
1 tub of Apetina Classic (or there is a Light version for days when Mummy is sticking to her WeightWatchers points!)
2/3 head of iceberg lettuce, washed and torn into bite-sized pieces
1 large carrot
3-4 inch piece of cucumber, chopped
About 10 cherry tomatoes, quartered
3 spring onions, finely sliced
100g ciabatta or crusty bread, cubed
2 tbsps garlic oil
1 tub green or black olives, pitted (the Bug likes the ones with chilli, but that wouldn't suit us all!)
1 red and one yellow pepper, chopped into cubes
Small pack of bacon lardons or pancetta cubes
Tbsp mixed seeds – we like sunflower and sesame
For the Adults:
Salad dressing of choice – M&D used a basic balsamic vinaigrette with a tsp dijon mustard added
Extras of choice, deemed unacceptable by young palettes – in our case sunblush tomatoes and avocado
Wine
Instructions: (read on, or scroll down for the video version)
Heat the garlic oil in a roasting pan at around 120°C, then toss in the bread cubes and bake for 10-15 minutes, until crispy and slightly browned. Leave to cool. (Mummy always has bits of stale bread hanging around in the freezer for this purpose – she hates waste – but if this is not you, just buy a loaf of ciabatta and chop up about 1/3 of it).
Pop your seeds into a small pan on a medium heat and stir for about 5 minutes until browned and starting to burst. Any seeds will do, although pumpkin jump the highest so are the most fun!
Layer your salad! First the lettuce, then the grated carrot, cucumber and tomato, bit of spring onion (not too much, you know how kids get with stuff like that), croutons, Apetina cheese cubes, olives, chopped peppers, or any other colourful salad veg your family prefers.
Don't forget the bacon – crucial to all child-friendly meals.
Sprinkle on the toasted seeds and serve!
For the adults, Mummy served individual pots of vinaigrette, and some chopped sun dried tomatoes and avocado, because they're weird like that in our house.
And of course, no delicious summery family meal would be complete without this:
With the promise of Eton Mess for pudding if we agreed to try everything, and eat most of it, what do you think the verdict was?
Sponsored Post