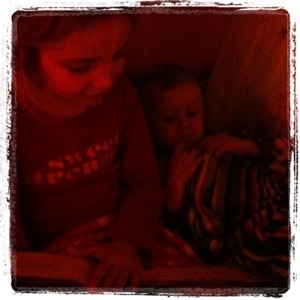 My favourite photo this week is an appalling shot really, but it is here not for its artistic merit, but for what it says to me. After Daddy does the bath Mummy comes up to read a bedtime story. However on this particular evening she was busy getting some or other adult-type dish into the oven. Curry, no doubt, or something else I would refuse to eat.
She yelled up to ask if I would listen to the Bug read his schoolbook while we waited. She came up 10 minutes later to find us snuggled together in my den.
"It's ok Mummy," I told her. "He read to me, then I read Zog to him. We're ready for bed now…"
A rare moment of sibling harmony… What better reason to publish a technically inferior image?