Christmas 2013 in pictures
One of the best parts of a family blog, is being able to record moments in our family's life. Things we would otherwise probably forget, or which would at least fade in our memories. Christmas 2013 has been packed with fun, so here is our family Christmas, in pictures:
Our Christmas got off to a fabulous start at Capital FM's Jingle Bell Ball, at the O2. Not many 9 year olds get to see Olly Murs and Katy Perry live, especially close enough to need earplugs! And the Bug's grumpy face? Totally because Daddy said we couldn't take that polar bear home.
Elfie arrived! Lots of people don't like this mischievous little creature, believing he looks freaky and gives stressed parents one more thing to remember, but we thrilled every morning to discover what he'd been up to overnight.
We took a trip to London to see the Christmas lights. Wandering the halls of Selfridges we found candy canes, Christmas crackers, and a Truth or Dare chocolate game for Daddy's stocking. The Christmas windows were a treat, with the biggest gingerbread village we've ever seen!
But it was the John Lewis windows on Oxford Street that had us most enthralled; incredible animal constructions, made completely of spatulas, kettles, vacuum cleaners and Wii consoles!
Then came our own festive construction. It is tradition in our house that we make a gingerbread house every year. We began with one of those flat-pack houses, where you simply assemble pre-made biscuits. Fittingly, we found it at Ikea. But one year we tried a gingerbread recipe, and we never looked back – the end product tastes so much better, and holds the love and delight of shiny-eyed excitement in a much better fashion than the pseudo-MDF version!
We made this one with our normal gingerbread recipe, from Good Food, but this year we used the Fairy Tale Cottage mould from Lakeland. They use it to create a chocolate house, but it also bakes well, and made straight edges that were much easier to assemble than our usual free-baked and trimmed panels.
As Christmas approaches, so does Mummy's birthday. She claims she's too busy to be bothered, but I wasn't, so I did all I could to make sure she had a special day in a lovely restaurant, including tolerating my brother's lobster-attack!
We went for tea with Santa, and asked for Nerf Guns:
Parcels began to arrive – this lovely box contained cheese and Italian preserves, until we emptied it, and then it contained an altogether different kind of gift!
Finally, on Christmas Eve, this happened. Elfie was supposed to go back with Father Christmas, but we didn't want to let him go. And it's a good job we didn't, because he managed to catch Santa in the act and take a photo for us!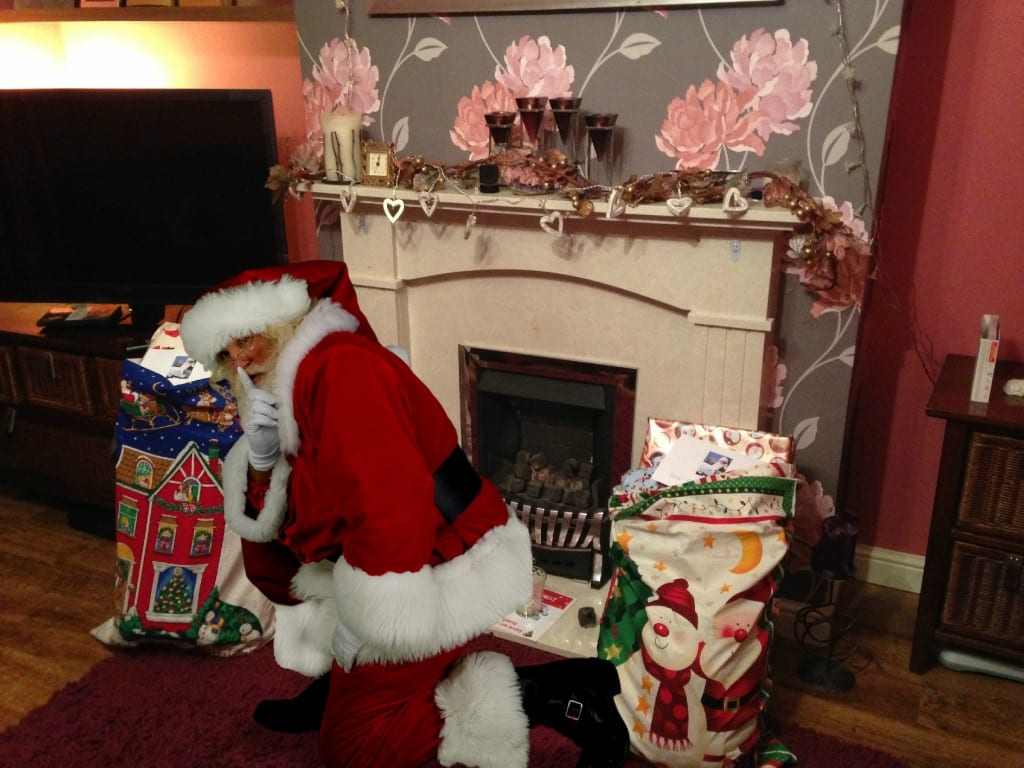 We'll be having a word next year though. It appears he disturbed the Bug – how else could you explain my brother getting up to open his presents at 3.30am?
* Update from Helen: I've just read another Christmas 2013 post which has reminded me of the magical moments when each of my children really understood about Father Christmas. I can still remember them clearly, but I'd hate to forget in my dotage, so I'm writing them here:
GG was 3 years old. We were staying in a cottage in Suffolk, and her and I were sharing a room. We left a mince pie and Bailey's on a little table just outside our bedroom. Somewhat of a cynic, even at such a young age, she hadn't really believed it could be true, but as we crept out of our room on Christmas Day the excitement on her face was a picture. "He really has been Mummy!" How I wish I'd taken a picture,  but I was too busy reliving my childhood with her.
The Bug was probably a similar age, but my best memory of him at Christmas was 2 years ago, when he was 4. He is a lover of cuddly toys, and as he pulled the wrapping off a giant squishy bear his face lit up with joy. He hugged that bear tight and there it was in his eyes – Christmas magic.
I hope you have all had magical moments with your children this Christmas xxx