The first thing we noticed at the Old Stocks Inn, in Stow-on-the-Wold (after the lovely warm welcome) was the bar. Quick, let's go and explore, so we can get back here and have a drink! we decided, and we did. We visited the Cotswolds on a typical British winter weekend, and the dark afternoon made our frosty breath and the twinkly Christmas lights feel festive and exciting. All we needed was a cosy bar and a pint to top it off perfectly.
As we wandered around the market square, popping in and out of charming little shops, marvelling at interesting gifts and old-fashioned sweets, I wished I hadn't done most of my Christmas shopping online. Smugly organised for the big day, I realised that there is much to be said for spontaneous seasonal shopping, and that Stow is the perfect setting for it. Living in a big city, it's easy to become over-efficient and formulaic about gift-buying and as we stopped to ponder pretty chocolates and unusual tree decorations, I decided that a family weekend away should become one of our regular pre-Christmas traditions.
Christmas shopping is much more fun in real life
Back at the hotel the children were quick to pile into their beds in the bunker room – but not to sleep. Separated from the main bedroom by a thick curtain, the bunker room houses three cleverly-spaced bunks, and an Xbox 360 console. They used the extra bedding to make themselves a gaming den on the top bunk, and we could quite easily have forgotten about them for the rest of the night! But I'd seen the cocktail menu, and that cosy bar was calling. After all, it's never too early…
The bar at the Old Stocks Inn feels modern and cosy
My choice at the bar was made more difficult by the fact that there was an impressive cocktail menu; apparently the Old Stocks Inn is the only place in Stow that serves cocktails, and the menu changes frequently. Our bartender confessed that due to a recent change, she hadn't yet managed to sample all of them, but she did recommend her favourite, the White Lady (Cotswolds gin, Cointreau, lemon and egg white) priced very reasonably at £7. Lured by the concept of 'marmalade vodka' I chose a Breakfast, which came complete with a small slice of bruschetta toast; the children were included too, with the barman taking time to explain to them the mocktails he could do. They ended up with a Raspberry Mojito, which went down very well indeed.
Cocktails were classy – even the non-alcoholic variety
One of the marks of a great hotel or restaurant for me, is how well they treat children. Mine are not of the chicken nugget and mini-pizza variety, and I suspect that most parents now prefer a menu that appeals to the whole family. The Old Stocks Inn treat younger guests with equal respect, from consulting them directly about their drinks preference, to not batting an eyelid when they order the rib-eye steak, medium, with the truffle-oil infused chips, please. The menu is described as hearty British, with a signature quirkiness, and that's a great summary. We ate ham hock with a pea purée, glazed pork belly, and a delicious roast pork loin with a black pudding sausage roll.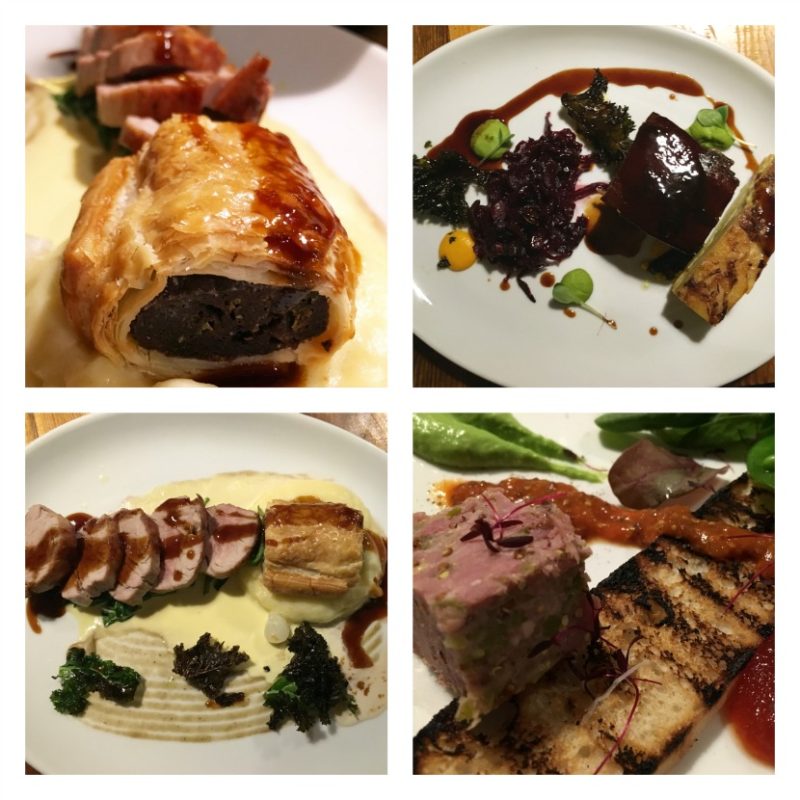 Our kids do have adventurous tastes, which I'm sure has come from our own love of dining out, but there is a more traditional children's menu, should yours prefer it – you won't see a chicken 'nugget' on it though. GG had a perfectly cooked steak, and decided that truffle-oil fries should always be a mandatory accompaniment in future; the Bug enjoyed a chorizo burger, and stole my cocktail toast. Everyone ate chocolate pudding for dessert – I would have photographed it, but it didn't last long enough.
One of our favourite things about staying in a hotel as a family is piling into bed together to watch TV after dinner, and the super-kingsize bed was perfect for catching up on X Factor. Our room was compact, but actually didn't feel cramped – I think the owners at the Old Stocks Inn made very clever use of space during their recent refurbishment, and the addition of a small wardrobe, mini-bar and Nespresso machine didn't make it cluttered. The bathroom was exactly right for a family weekend, and there was even a smart space to store an empty suitcase.
After a good night's sleep, we had a very hearty breakfast (another sign of a great hotel is a perfectly cooked poached egg – a rarity, but mine was just right at the Old Stocks), and set out for a walk in the countryside. There is lots to do in the area, and the hotel has put together a great map of local Cotswolds facilities and attractions; we were sorely tempted by the Cotswold Motoring museum and Toy Collection, but the weather was bright and we needed to work off all that delicious food. Living in a city is so convenient, and having London on the doorstep is wonderful, but you really do appreciate fresh air when you come across it. Armed with chocolate we kicked our way through the last of the Autumn leaves, competed for the best sticks, and made friends with ponies in fields.
We managed a 6-mile walk before any grumbling set in, then topped up on fresh air, and with a renewed appetite, we made our way back to Stow for afternoon tea. It was a difficult choice, and we opted for lardy cake and scones at Huffkins, but only on the promise that we return to the Old Stocks soon to partake of the enormous slices of cake served in the Little Stocks Coffee Shop.
We think the Old Stocks Inn is rather special. The owners have taken a 17th century building and turned it into a smart, modern hotel and restaurant, without losing any of its Cotswolds character. That's no mean feat, when you consider that the hotel spans three different buildings, and houses 16 luxurious bedrooms, a good-sized bar and an ample restaurant. Nooks filled with old books and shiny apples, giant hourglass timers, and spotless facilities all come together to create a hotel where you'd feel equally at home for a posh occasion, or sipping a quick pint by the fire. I think we will definitely be back, and not just for the cake.