I sit here merrily typing at my kitchen desk, courtesy of Actually Daddy. Saturday mornings are his territory; it's my day for a lie-in, and for catching up with Facebook work. Saturday is when he takes the kids to football practice. I was perpelexed when my six-year-old daughter told me she wanted to join the football club at school. I signed her up, and intensified our shoelace-tying lessons – she was totally doing that stint on her own! No way was I standing in the cold on a dark winter's evening while my child threw herself around a muddy field. I was smug; it wouldn't last long.
Fast forward four years, and she's still going strong. Diabetes came along and dabbled with her pre-training prep, but it hasn't stopped her. Every November there is an evening when I turn up to school and struggle to locate her in the darkening fog. Thank goodness Juventus play in neon pink!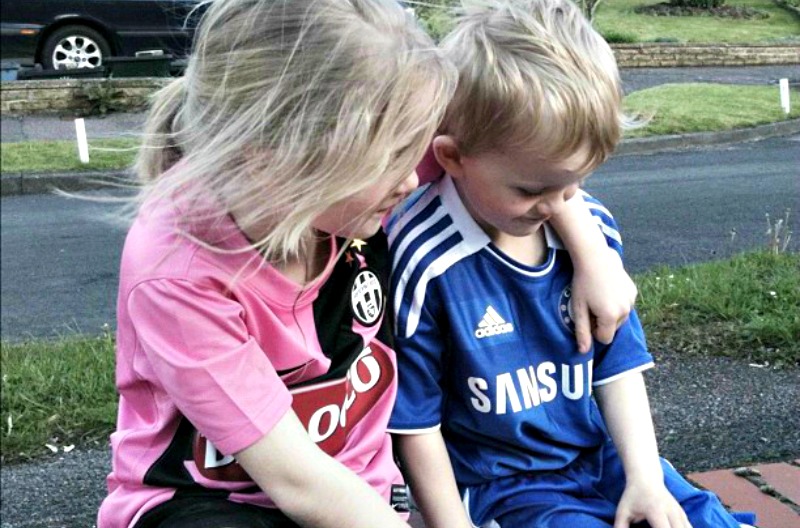 The Bug is a big footballer too, and it is thanks to a local Mum that he now has a team to play for. She spent time finding exactly the right set-up for the boys to thrive, and learn the skills that will give them – if not football stardom – an activity that will find them friends for the rest of their lives. Weekend football leagues are how my husband found his best man, and some of his best friends, and no doubt kept him off the streets and out of the pub (a bit!) as he was growing up. Football is more than just ball skills – it's life skills.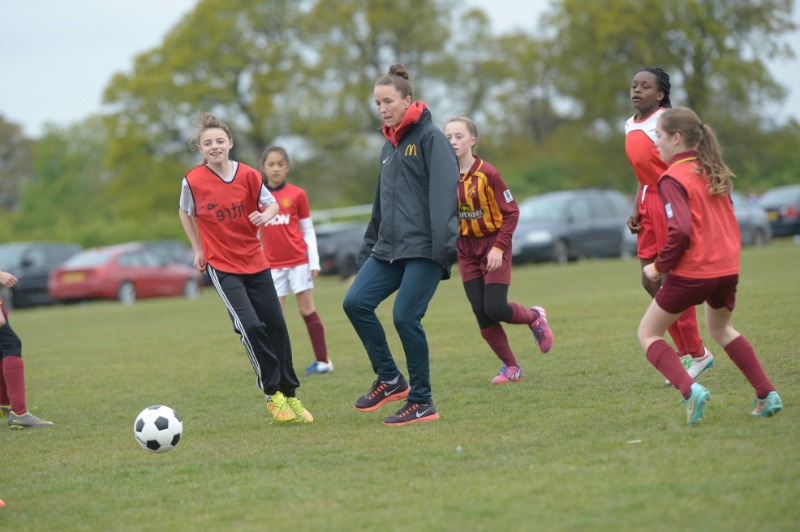 Casey trains with Petts Wood FC Girls team
Seeing this, McDonald's have launched the McDonald's Football Mum of the Year Awards, to recognise mums who put in countless unpaid hours of work, so that their children and their friends can find the benefits of belonging to and playing with a football club. England and Aresnal player Casey Stoney will sit on the judging panel, and went along to meet the next generation of football players and their mums at local football club Petts Wood FC. The mum-of-twins said:
"I started my career at the grassroots of football, and as a new mum I can already see how important this award is from both sides of the fence. There are so many mums who help to run their child's club or volunteer at the clubhouse to help raise funds so the kids can play. It's so important to recognise them when you consider that they're also often juggling childcare and work on top. I cannot wait to have a kick about with the twins in a few years!"
Watch this lovely video of Casey's day with Petts Wood, and the local mum bloggers who went along to see what the awards are all about:
Mum-of-two and football wife Coleen Rooney will present the Football Mum of the Year Award to the winner at a special ceremony at Wembley Stadium on Sunday, 2nd August.
Do you know a mum who does a brilliant job of nurturing a young football team? Nominations for the McDonald's Football Mum of the Year Award are now open and will close on 19th June 2015. To nominate a mum you know go to mcdonalds.co.uk/mumoftheyear.
Disclosure: I am an ambassador for McDonald's Football Mum of the Year Awards. All editorial and opinion is my own.