It's no secret that each year millions of people enjoy traversing the length and breadth of the British Isles and beyond in a campervan. That's because it's a fun and affordable way to explore new places with family and friends! Plus, it's way better than camping with a tent!
As the UK's coronavirus lockdown restrictions begin to ease, more folks are thinking about taking a break and getting out and about in their campervans. You're likely here reading this article because it's something you're planning to do as well.
The only trouble is some people's campers are devoid of any creature comforts. As you can imagine, if you ever have a day with stormy weather, it can get somewhat dull staying inside of a camper.
But, what if there was a way of 'pimping your ride' and having a more luxurious campervan? One that could provide you and your party with ways to entertain yourselves? And one that also feels like being in your home rather than a van?
The good news is there are plenty of ways to add luxury, extra features and enhancements to your home away from home! Check these ideas out for some inspiration:
1. Upgrade to a premium sound system
Let's face it: the audio setup that comes as standard in a van is mediocre at best. You have to remember that all campers, whether they are professional coach-built ones or DIY conversions, derive from panel vans.
Vans get designed for longevity because most have hard lives getting used for transporting cargo. They don't have the same luxuries as cars. For example, it's not uncommon for modern vans to have window winders instead of electric windows!
As you might expect, the sound setup in a van is basic. Still, nothing is stopping you from upgrading it to a premium sound system. You can install a modern 'head unit' in the dash which features Bluetooth, an HD touchscreen display, and satellite navigation.
You can also install amplifiers to provide much-needed power to additional speakers and subwoofers in the living space of your campervan.
2. Install a digital entertainment system
At home, you're doubtless accustomed to watching satellite channels on a 4K HDTV. You may not realise it, but nothing is stopping you from having the same setup in your campervan!
If you've got a Sky subscription, it's possible to install a roof-mounted satellite dish that you can erect once you park your campervan. Otherwise, you can fit an aerial that lets you receive Freeview digital TV channels.
Inside your campervan, you'll need to fit a wall-mounted TV similar in spec to your unit at home. To maximise space inside your camper, you can mount the TV on a swivel arm. Naturally, you should also have a set-top box that can receive Sky or Freeview channels.
Your TV setup can get hooked up to your premium sound system. One of the great things about today's modern TVs is they don't draw much power compared to the older style CRT units that weighed a tonne to lift!
If any of your group enjoy playing computer games, consider installing a games console that connects to your campervan's TV. It can be a welcome boon for kids (and adults alike) that get bored quickly and can't explore the outdoors due to adverse weather conditions.
It's worth pointing out that you may need some power inverters and adapters. That's because your van's electrical system runs on a 12v DC setup. Household electrics run on a 230v AC mains setup.
Don't worry: it's not as hard as you might think to get household electrics working correctly in your campervan. There are many wiring guides online that you can follow. Alternatively, you can get an auto-electrician to sort out that side of things for you.
3. Set up wireless Internet
The trouble with using the Internet on your phone when you're travelling across the UK or Europe is that it can end up costing you a small fortune. Most people's data plans aren't sufficient enough for campervan Internet access.
What that means for those folks is they'll end up using their data allowances quickly and start paying expensive 'out of tariff' data charges per megabyte or gigabyte. To that end, solving the problem is quite simple.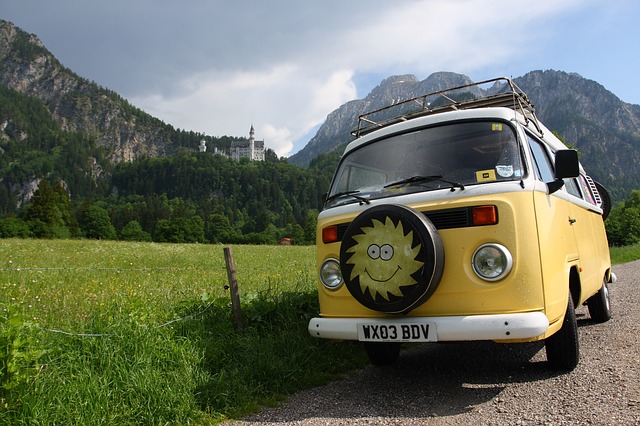 The first thing you need to do is invest in a 4G mobile Internet router. They are small devices, about the size of your smartphone, and have internal batteries. Their job is to allow wireless connections and provide Internet access, much like your home broadband router.
If you buy them from places like Amazon, for example, they come 'unlocked' – meaning you can use them with any mobile data network. That's handy if you'd prefer to stick with a particular network.
Next, you'll need a SIM card linked with a data plan suitable for your needs. If you're stuck for ideas on which network to use, the Smarty data SIM plans offer plenty of data for low prices.
It makes sense to check the network coverage of the destinations you wish to visit. You can then determine which provider offers the right mix of coverage and value for money. Once you're set up, you can mount the 4G router in a central area in your campervan.
4. Furnish your van with premium materials
Now that you've sorted out your sound and entertainment systems, and you've got your Internet access up and running, it's time to pay attention to the furnishings in your campervan.
The idea is to make your van a 'glampervan' and something that will essentially be the most luxurious campervan you'll ever own! When thinking about furnishing materials, it makes sense to choose ones that don't just look great but are also very durable as well.
Starting with the floor, you should steer clear of thin carpets and instead opt for plush carpeting. Don't forget to use a premium underlay such as Cloud 9. Such an upgrade won't just look nice, it'll feel great too and help insulate your campervan.
The material you use for your walls and roof will depend on the look you wish to achieve. A popular option is to use high-quality tongue and groove wood cladding. It's a great idea for those seeking a rustic theme.
Alternatively, you could use vinyl, tiles, or even carpet to adorn the walls and roof of your campervan. Once you've taken care of the main interior furnishing, it's time to focus your attention on soft furnishings for other items.
With things like cushions, duvet covers, and pillowcases, be sure to use the best materials that offer a luxurious feel yet are long-lasting. The same also applies to the curtains you use for your windows.
5. Upgrade your interior lighting
It's great having natural light flooding into your glampervan from the windows and sunroofs. But, how will you illuminate your living space when it gets dark? The one thing you don't want to do is use the standard lighting that got fitted when your van was built.
Instead, you should upgrade your interior lighting and use LED technology. Doing so means you can mimic daylight with 'cool white' lights that also consume very little battery power. There are many options to consider with LED lights, such as:
Strip lighting installed along the sides of your flooring and around the roof;

Downlights or 'spotlights' fitted in sections across your roof space;

Light strips above or next to windows, or going down the middle of your roof.
There are plenty of options regarding LED lighting, and you can mix and match different styles of lights to suit your needs and style preferences.
6. Buy a custom-made mattress
You'll no doubt spend much of your time away from home exploring the areas that you visit. But, you'll still need to spend some time sleeping in your campervan each night, and so it makes sense to have a super-comfy bed!
As you probably know by now, it's not always possible to fit a standard-sized bed mattress in a campervan due to size and placement restrictions. With that in mind, what can you do about having a good night's sleep?
One option is to invest in a custom-made mattress. As the name suggests, it's a mattress made specifically for your campervan. Companies such as Custom Size Beds can create a made-to-measure mattress for your camper from a variety of materials like memory foam.
If you don't have an extra-long wheelbase camper, you may wish to have a mattress divided up in sections. That way, you can convert the bed back into seating when you're not sleeping.
7. Fit a luxury shower and toilet
Last but not least, all glampervans have luxury shower and toilet facilities on-board. You could fit ones made with premium ceramic materials rather than plastic. Plus, it's also possible to have a shower powered by a strong pump that also conserves water.
Now you no longer have to traipse through a campsite and use shared facilities. Especially when that means a long walk to the toilet and shower cubicles in adverse weather conditions!