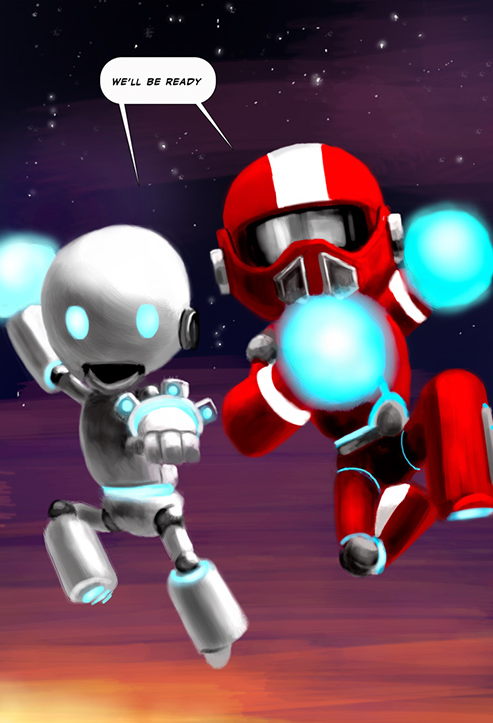 I've always been a fan of sleep, but since discovering that reading is not only easy, but fun, I appear to have contracted my sister's virus. It manifests as an inability to keep my head on the pillow at night unless said pillow is also home to a book. I have been discovered several times recently in the middle of the night, with lights blazing and a pile of books littering my duvet.
One such book is Robotslayer. I read it. Mummy read it to me. And then I read it again. I'm not the biggest fan of handwriting, but I told Mummy I wanted to write a review for the blog. And this is what I managed to produce:
It took an hour to write, with lots of coaxing to keep at it, but it is all my own work.
Robotslayer, by Vincent Kamp
Leo and his brother, Benny, are experts at Robotslayer 3000. They think they are playing a video game but really they're in training to save their city from evil robots. They start on their task but then Benny is kidnapped. Now Leo has to save not only his city, but his brother too. Can he do it?
My favourite part of the book is when Leo tries on his special suit and tests his superpowers. The pictures are really cool!!
I recommend this book for 6 to 10 year old boys. I think girls will find it a bit violent.
100/100
Helen says: I read this book myself to determine if it would interest a 6 year old, and actually quite enjoyed the story. The illustrations are good. My only negative was the size of the print, and the fact that it is written in capitals – to me, larger standard text would be easier for a child to read. But it didn't seem to hinder The Bug's enjoyment.
Graphic novels for kids are often handy, especially for boys, to get them reading where a standard 'chapter book' might not hold their attention. The Bug is a good reader for his age, but it's true that he doesn't have the same desire to read a novel in one sitting that his sister had at his age. Personally I struggle to follow the cartoon story of a graphic novel, but my son didn't have that problem, and has read it several times and has fully understood the story. Maybe graphic novels are the way forward.
I'm linking this post to Kids Book A Week at Damson Lane, where you will find children's book reviews every week.
Robotslayer is available now at £7.99 on Amazon.
Disclosure: we were sent a free copy of Robotslayer, with no obligation to review. All opinions and editorial are our own.