On a cold, blustery wet weekend in November, we travelled to Scarborough. The north-eastern coastline might not seem like the best place for a wet winter weekend, but we weren't there to sun ourselves on the beach. We were there to review Ox Pasture Hall Hotel, and whilst it's a place beautiful enough for a summer's weekend, the winter weather totally does it justice! Still beautiful, despite the season, as we made our way through the garden to the small reception, we knew we were in for a cosy retreat, and we weren't disappointed.
The children very quickly laid claim to the master bedroom in our family suite, settled down on the huge leather sofa to surf the channels on the giant TV. I swooned over the walk-in shower, and the bath big enough to swim in, the Bug was fascinated over the waterfall taps in the bathroom. But once we'd checked out the comfort levels of the beds (off the scale), I was itching to go and explore, having seen the cosy bar area, with roaring log fire.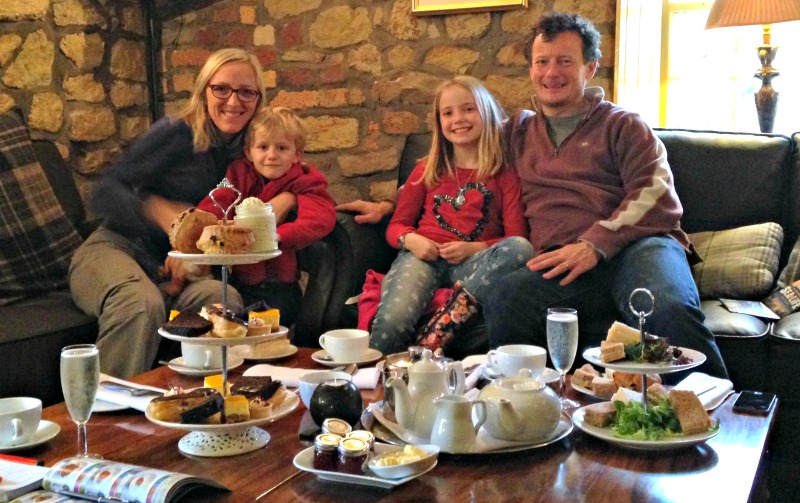 Ox Pasture know how to lay on a cream tea!
As we sank into deep sofas by the fire, the lovely staff appeared with glasses of champagne for the adults, and a pot of hot chocolate for the children, and we knew our weekend was off to a good start. I love a good cream tea, and have indulged GG in one or two on our girls days out. Usually she doesn't enjoy the sandwiches – more often than not they're made with adults in mind, and horseradish and mustard aren't good in her book. These were perfect though, with fillings to cater for adults and children alike.
What was really on her mind though, was the cake! A gorgeous selection, accompanied by the biggest scones I'd ever seen. We wondered if we'd manage it all, but our appetites rose to the challenge. Just as well there was a blustery beach to re-energise us afterwards!
There's something rather exciting about a wild beach in the rain, and the children squealed as the waves crashed over the promenade. We stayed a lot longer than I'd planned, and it was dark by the time we returned to the hotel, though not dark enough to stop us getting a snap of these gorgeous beach huts. We spotted some (crazy) surfers out there enjoying the waves, and resolved to come back on a warmer day to continue our surfing adventure!
A swim in the tub, and we were ready for more food – the cold and wind are great for working up an appetite! Which was just as well, because the food at Ox Pasture Hall is amazing! We'd phoned ahead to check what kind of food was on the menu for children, and the staff couldn't have been more helpful, even offering to buy in their favourite, so the kids both had a great steak, whilst we feasted on various cuts of lamb and pork belly, all flavoured to perfection. The children's menu even had cheese on toast as a starter – perfect!
After such a fabulous meal, all that was left for us to do was to pile into one big bed, all four of us, and catch up on that night's X Factor, before sinking into the kind of sleep you only get in the middle of the countryside.
Wandering through the little couryards and beautiful gardens the next morning, on the way back from a hearty breakfast, we stumbled across the Dovecote suite, a purpose built room, but very in keeping with the rest of the hotel, which is often used for weddings. It was laid up for a function, and I couldn't resist having a peek; it would be the perfect place for a gorgeous wedding:
Reluctantly, we tore ourselves away. Glorious food, log fires, and stunning gardens – it's hard to know whether a summer weekend would be better, but for us, Ox Pasture was the most gorgeous winter weekend treat!
To see more, visit the Ox Pasture Hall website. For beautiful weddings check out their Yorkshire wedding venue page. And if you're staying a little longer, here are 15 things to do in Scarborough with kids.
Disclosure: our stay at Ox Pasture Hall hotel was complimentary for the purposes of review. We'd thoroughlly recommend it for families and couples alike (Space In Your Case has a great comparison of Ox Pasture Hall for families or couples). All editorial and opinion is our own.