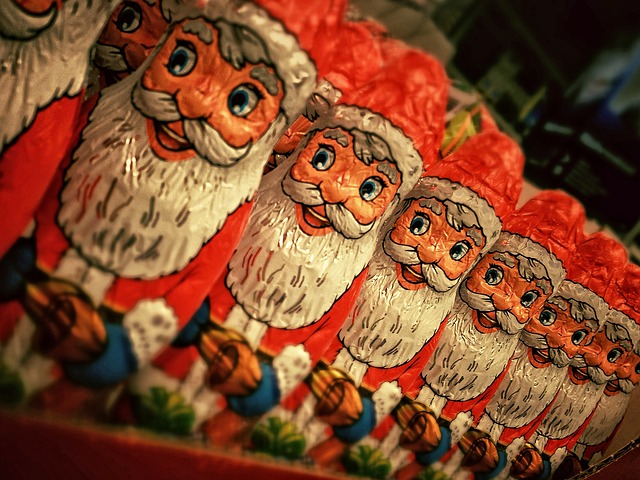 This year on Christmas Eve the perfect Christmas Day will start.
Daddy will remember that it's sleigh bells in the garden at bedtime.
A tambourine sounds nothing like Santa's sleigh.
***
I will be allowed out of bed every half hour to check the palpability
of my stocking for evidence of a visit from the bloke in red.
***
We will get up at 5.30am. All of us. Whilst I don't mind a bit of covert rummaging in a baggy sock by torchlight, there comes a point when I require
the input of a delighted adult to validate my excitement.
***
We will open all our presents before breakfast. Actually, I don't really care what anyone else does, as long as that wrapping paper is off my gifts within 30 seconds of my arrival at the Christmas tree. No waiting till mid-morning; none of that delayed gratification rubbish while Mummy stuffs cold meat into a turkey's bottom. And absolutely no spacing out of presents throughout the day, 'to make it last.' Pah!
***
There will be a chocolate Santa in my stocking. It's the same every Christmas.
This year I want to be allowed to eat it for breakfast. All of it.
***
Talking of breakfast, it will be pain-au-chocolat. None of that fancy schmanzty panettony stuff that Mummy likes. Someone should tell her that it's just white bread with sugar on it.
***
My brother will be angelic. Not only will he show huge self-control when he sees my haul, but he will give me his own presents to play with whenever I ask.
He will also share his chocolate Santa with me.
***
Someone else will cook Christmas lunch. Seriously, Christmas is the day of the year
most likely to require the input of my mother in my play.
A LEGO R2-D2 doesn't build itself, you know!
***
As for the perfect Christmas lunch, I do like a roast dinner, but this year I'd like the trimmings to be relevant. None of that bread sauce stuff, what is that about? And as for cranberries – fruit with gravy should be illegal.
Yorkshire puddings will do nicely thank you.
***
The perfect Christmas day drinks will not include demands to drink water.
Glitterberry J2O all day long please.
***
For the rest of the day I will be allowed to do pretty much whatever I want. There will be champagne for Mummy, so this should be achievable.
There will be two entertainment rooms:
The living-room, where Elf will play on a loop for 6 hours, until the Christmas special of Strictly Come Dancing begins.
The playroom, where Daddy will have set up his new Playstation 4/Xbox One (delete as appropriate).
I told you how we added sneaky treats to Mummy's shopping list last week.
This week Daddy is chancing his arm:

***
Someone will keep topping up Mummy's glass. Which will result in her napping. Which means she won't notice that bedtime has been and gone. Which is good.
***
When I do make it into bed, I will be allowed to have all my Christmas presents to sleep with me by my pillow. Including the chocolate.
The perfect Christmas day