How to make up for a cancelled ski holiday
I wasn't supposed to be writing this blog post today. Right now, in a different world, I should be cruising down a perfectly groomed alpine piste, revelling in glorious April ski weather, and looking forward to fondue with a couple of beers this evening. This Easter holiday was the one where we would finally do a ski holiday with no holds barred. We'd saved up, and looked forward to it for a few years. We had the apartment with the hot tub, the plush one where no-one was sleeping on a sofa-bed, and some of the best Canadian mountains to fill our days.
But our ski holiday of a lifetime got cancelled. A week before we were due to fly. The kids were gutted. My 12 year old is still angry that his Christmas present last year was a new ski jacket, and he'll never get to use it. (Teen growth spurt incoming!) So to boost everyone's mood we've been browsing https://www.skifamille.co.uk, where we just might have found the next thing to look forward to, even if it's just a pipe dream for now.
Things we've lost through pandemic lockdown
This is the reality for a lot of us, right? The coronavirus pandemic – and the subsequent lockdown – carries more than just anxiety over our health and our lifestyles. Lockdown restrictions have brought cancelled plans for all of us, and the emotions around that are different for everyone. My daughter is 15; she was looking forward to her first summer of independence, going to festivals and concerts, hanging out in the park with friends, sitting on benches! I mean, who knew that even sitting down in a public space would be off-limits? I can only imagine the frustration she's feeling right now.
How to deal with disappointment
It would be easy to wallow about our cancelled plans. The expectancy we had, and the disappointment of losing that is pretty huge. We can't rebook this particular holiday because next Easter will be spent preparing for Maddie's GCSE's. Canada is too far to go for just a week at half term, and so we are now at least two years away from the dream holiday we'd always planned once the kids were old enough to appreciate it.
Helping a child to cope with disappointment is even more upsetting. Kids don't have the hindsight to be able to put things into context and move on. However, it is possible to distract them, and to help them move forward rather than dwell in a negative space.
Having teenagers, I've found it tricky to divert them from screen time while they've been quarantined, so I trawled the internet for ideas to keep teens entertained during lockdown. One of the most productive things in my list turned out to be planning a virtual holiday. Essentially, you give them a budget (real or make-believe, it doesn't matter) and let them loose on the internet to plan transport, accommodation, what they'll pack, and even where we will eat once we're in resort. It's been a huge distraction, and one that they've really enjoyed.
The difference is, our virtual holiday is going to be for real.
Planning a Christmas ski holiday
Before we had kids Jason and I used to spend Christmas or New Year in a luxury ski chalet. It's the most romantic time ever to remove yourself from the real world and cocoon under the twinkly lights of year-round Christmas trees, stuffing your faces with baguette and cheese, whilst poring over piste maps to plan your next day. Once we had kids we opted instead for a traditional family Christmas at home, but the disappointment of this cancelled trip (and having older children) has finally pushed us back over the edge, and a Christmas ski trip is now on the cards.
What we love about a chalet ski holiday
Their research has been thorough, but the kids have finally landed on the Ski Famille website, where they've found the chalet of our dreams in Les Gets. If you've never done a chalet ski holiday, here's what we are looking forward to reliving with our kids now they're old enough to appreciate it:
Comfort at the end of a long day of working our calf muscles in heavy boots. Skiing is the most fun you'll ever have in freezing temperatures, but it does come with a physical toll. The joy of sinking into a bubbling hot tub on a cold night – with a glass of something chilled and bubbly to drink – is quite possibly the best feeling I've ever had.
Gourmet food: A chalet ski holiday usually comes with a host. That means hot food for breakfast, and a fabulous three-course dinner every night. Chalet hosts are always amazing cooks. It's the only holiday where the calories you burn exercising are still outweighed by those you consume. It's glorious!
Afternoon tea: Once you've left your chalet to race down perfect corduroy slopes, or to glide through fresh powder, your host lays out home-baked cakes, fresh baguettes, and the best jam I've ever tasted (maybe that's just the post exercise hunger, but seriously, it feels like heaven). Throwing off boots and salopettes to sink into a plush sofa with soft bread and French butter is just the nicest food I've ever eaten at that time of day. Afternoon tea at The Ritz can't hold a candle to a rustic French feast in my opinion.
No housework: We've done lots of self-catering ski holidays in Europe, and they're great, but there's always a bed to be made, and dishes to be washed. As a mum, you cannot overestimate the joy of someone else taking care of the chores. It removes all the nagging too, and turns me back into that mum the kids love to spend time with because she's so chilled out!
Ski Famille operate in some of the best resorts in Europe, so I'm confident of quality snow and great accommodation. Plus they're the easiest to get to from the airports. Les Gets holds a special place in my heart, as it's where I did a ski season in my Gap year thirty years ago! Back then it was a tiny French village with ageing traditional hotels and a fairly outdated lift system. But I've watched it change over the years and it's now a world-class resort, with restaurants to match, and pistes to suit every ability – including my powder hound husband! I can't wait to go back.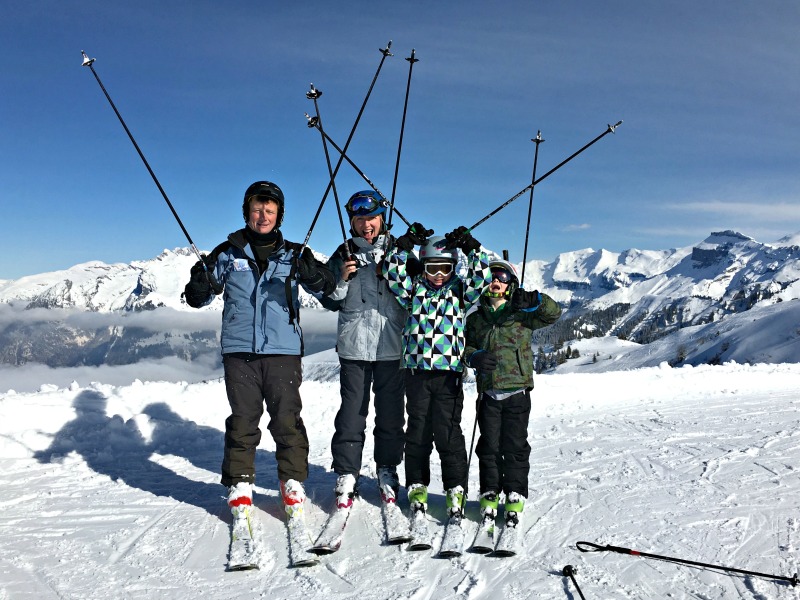 And so our Christmas ski holiday is shaping up nicely, and the whole family has something to focus on that moves us all away from the loss caused by the coronavirus lockdown. I have actually bought the ingredients for a fondue. But I'm thinking we won't need them now…