How to make Turkey Kiev
I'm always looking for recipes the kids will eat. Time was I would ease the baby off to sleep, then stagger down the stairs for a pasta dish, gladly relinquishing Actually Daddy of the wine glass he proffered at the kitchen doorway. Now my children stay up later, I'm keen to cook just one evening meal per day, suitable for all of us. This has its challenges. Their love of anchovies, wine, and asparagus is rather less passionate than ours, and woe betide a foodstuff if it touches one of it's colleagues on the plate. Fortunately, this Turkey Kiev recipe is one dish they will not only eat, but relish. It is delicious, quick, low in calories (comparatively) and meets the requirement of separation on the plate.
Quick Turkey Kiev recipe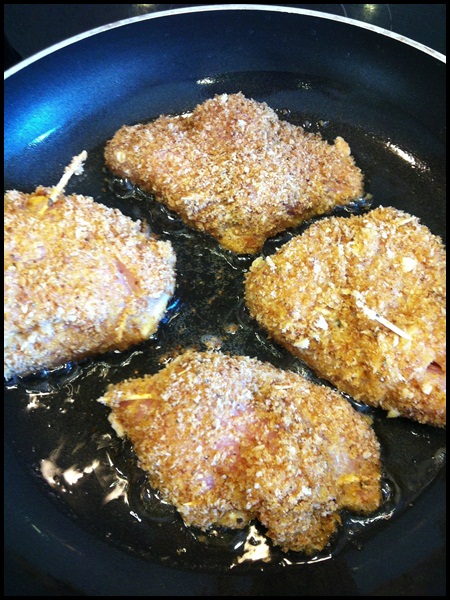 Quick Turkey Kiev
Guaranteed to go down well with the kids
Ingredients
4

Turkey Escalopes

75

g

salted butter

softened

3

cloves

garlic

crushed

Juice of 1 lemon

100

g

plain flour

2

eggs

beaten

100

g

fresh breadcrumbs

3

tsp

Schwartz Perfect Shake Garlic Italian

2

tbsp

vegetable/olive oil
Instructions
Mash the butter together with the crushed garlic and half the lemon juice to form a paste

Divide the garlic butter between the turkey escalopes, fold each escalope over, and secure with cocktail sticks or skewers

Mix the Schwartz Garlic Italian herbs into the breadcrumbs

Coat each turkey escalope with flour, then egg, then breadcrumb mixture

Heat the oil in a large frying pan and fry the turkey for about 15 minutes, turning regularly to make an even crisp finish on both sides.

Remove the turkey once cooked, to a plate with kitchen roll to drain. Keep warm.

Clarify the remaining oil in the frying pan by adding the remaining lemon juice and letting it bubble up for a minute.

Serve the turkey kievs drizzled in garlic and lemon butter, with fries or rice, and some green vegetables
We always have a stock of breadcrumbs in the freezer. I hate waste, but I also hate crusts, so I pop the bread ends in the liquidiser and make breadcrumbs to freeze. Today I just weighed out what I needed and added the Schwartz Garlic Italian herb blend to give them the flavour edge that I wanted.
We prepared the turkey according to the recipe above, and then set up a quick production line:
We dolloped a wodge of garlic and lemon butter into the middle of each turkey escalope, folded it over and secured it each side with cocktail sticks. It was then dipped into flour, then egg, then the seasoned breadcrumbs, and plopped into the hot oil to fry.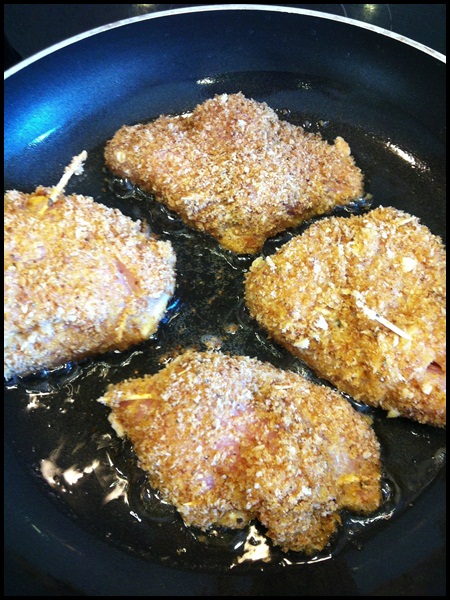 Don't forget to remove the cocktail sticks, and check that there is no pink meat before serving. My children polished this off with a plate of chips and peas before I was even close to finishing!
This really is quick, simple and very tasty, and would work equally well with chicken. Bizarrely, the kids are keen on chicken korma, so my next plan is to try the slow cooker recipe mix they do – although I suspect my korma will be in no way as acceptable as the school dinner lady's 😉