By GG…
It's the weekend! Which in our house heralds only one thing. Daddy cracks open the Sodastream flavours and mixes some mean cocktails! We reviewed our Sodastream Source machine back in June when Daddy took a nostalgic trip back in time on Father's Day, recalling how he had once attempted to fashion champagne from a bottle of Blue Nun in the seventies. The new machines have come a long way since then, and ours is elegant enough to be allowed a permanent spot on Mummy's minimalist kitchen work surfaces 😉
Now, we tried them all at the time and declared our favourites to be Lemon and Lime, Orange, and this one, which we've nicknamed Smurf Juice, but which in actual fact goes by the name of Blueberry Isotonic:
But then, Sodastream brought out cocktail flavours, and there was no stopping Mummy. An invite was issued, the karaoke machine came out, and off she went.
Sodastream Cocktails
Margaritas – simple to mix, she just fizzed up a bottle in the Sodastream Source and added the Margarita syrup and some tequila. She used our Chill Factor cups to turn it into a frozen Margarita, and that took the mums off our hands so we could raid the chocolate drawer play in peace.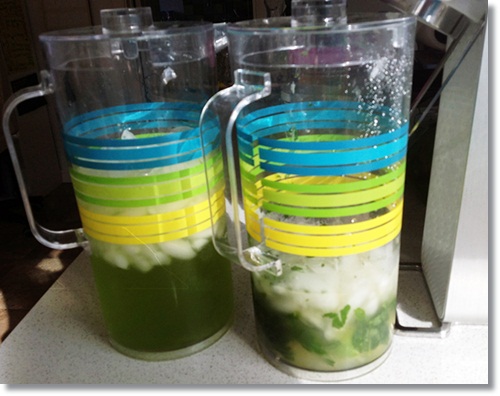 Mojitos – Now, Daddy thinks of himself of himself as an expert mixologist when it comes to mojitos, so he was keen to do a taste test on his friends. Several jugs later, they declared his home made cocktail more authentic, but way more faff. Plus, there was a version without the rum – so this syrup is now my mocktail of choice on a weekend!
To make Sodastream Cocktails you'll need a machine from Sodastream, flavour syrups – we get ours at Dunelm Mill, but most of the big supermarkets sell them, and if you want the frozen margarita you'll have to get some Chill Factor slushy makers. In fact, get these anyway, they're brilliant for making chocolate milkshake into instant ice-cream! Just keep them in the freezer and you can make slush anytime you like – if you use Innocent Smoothies they're even healthy, and one of your 5 a day!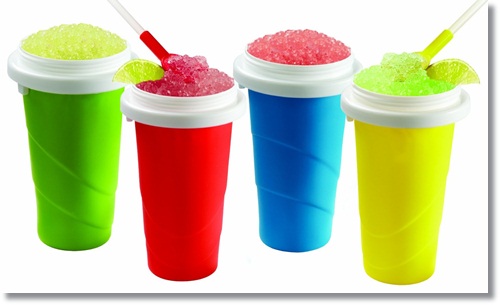 Right then, see you tomorrow, I'm off to do some mixing!
Disclosure: we were given our Sodastream cocktails syrup, and our slush makers free of charge for the purposes of this review. All opinion and editorial is our own.