How are you feeling about your kids' schoolwork right now? I don't mind admitting that – despite friends telling me not to worry, that Covid 19 lockdown is unprecedented, that just surviving and staying happy is the most important thing – I have spent a little bit of time wondering how my children will fare when they go back to school. Have they done enough schoolwork to keep on track for their GCSE's?
I have teenagers, so you can imagine how well it would go down if I offered to sit next to them at their desks and have them explain their work to their mum! So, in amongst the film nights, the novel
activities for bored teens
, and the family dog walks (which I'm SO grateful for, by the way!) I do also wonder where my kids are at compared to their peers after a whole term and a half of homeschooling. And actually, now I think of it, how do they compare to the rest of the nation? And so I've thought about whether it's worth investing in
private tutoring
.
ADVERTISEMENT FEATURE We have received financial compensation for writing this post.
Should you give private tutoring a try?
As a blogger, I've received a lot of emails over the last few weeks from businesses offering their services online, and I'm especially interested when someone emails me about online GCSE study, or private tutoring. Because actually, I do wonder if my kids might need it in order to keep up with their studies once lockdown is over.
Tutoring can be an ongoing need for lots of kids given the gaps in various schools, and the different rates of progress of our kids. But the intensity of tutoring needed is completely dependent on individual situations. It can be a bit of a minefield too, and unless you have a recommendation from someone you trust, it's difficult to know if you're choosing the right tutor for your child. Even then it's all so personal! I remember my youngest struggling with
how to master handwriting
, and a friend recommending a local tutor. We had a trial lesson. She was lovely. He hated her! And so it was game over for handwriting for us for the time being.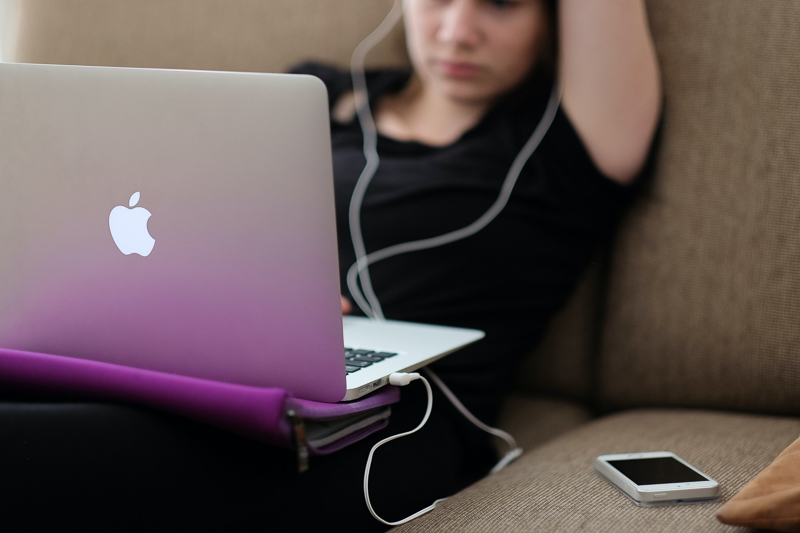 Next we tried Kumon. A franchise operating all over the country, Kumon teaches Maths and English at all stages of school. You turn up every week, do a test, and get given papers to take home, the idea being that you do a paper every day for 10 minutes or so, getting the child into the habit of writing, or working with numbers. That actually worked for us for a long time, as Evan needed the practice – you should see the speed of his times tables now! However as he got older, he began to resent the daily task, the routine of it all, and especially the Wednesday night trip to "see Mike" (his tutor).
Private tutoring online
One of the tutor services who contacted me in lockdown is Nightingale Tuition, and as soon as I looked at their business model I knew it was worth covering on the blog, for people who might need light shedding on different tuition options. Specialists in
tuition for GCSE
, Nightingale's focus
is 1-1 tailored lessons in a variety of subjects and exam boards, delivered online and with the use of a virtual collaborative whiteboard. They aim to do things differently from the beginning, by getting to know students individually, and tailoring lessons specifically to suit the child.
I saw this happen with my daughter just yesterday, when she had a Zoom call with my nephew, who is a Maths teacher. She just wasn't getting what he was trying to explain, so he just pivoted his teaching to include a different way of looking at her problem, and then another, until they found something that made sense to her. It totally sold me on the benefits of individualised teaching.
What Nightingale say about their teaching methods sounds like exactly what we would choose if we do decide to give the kids extra tuition when they go back to school. I definitely think it's a consideration to keep them as well-equipped for their GCSE's as they were when they stepped out of the school environment in March.
Nightingale emphasise that they have a holistic approach to education. Their premise is that learning is a not a destination, but a life-long process. That the purpose of learning is not to just get through exams and school, but to learn how to learn, how kids learn best for themselves, and how to apply it in life going forward.
What do Nightingale Tuition offer?
I asked the owners what services they offer, and specifically how they work with young people. This is what they had to say:
Various evidence-based techniques such as the Feynman Technique and SRS (spaced repetition system) are utilised to create a structure in our teaching and to build the most fundamental skills required in every subject. Feynman Technique involves some teaching from the students themselves and it's the idea that you have only grasped the concept if you can successfully teach it to someone else. SRS is a smart and efficient take on rote memorisation, and with memorisation being something that all students goes through and many struggles with, we place a particular emphasis in perfecting this skill.

Our lessons are typically in blocks of 2hrs. We found this to be the optimal time in which we can employ our teaching methods. This amount of time is required to not only teach our student new content, but to also help consolidate old learning through consistent reviews. More often than not, students struggle to keep up not because a lack of effort, but because a foundation was never established, which becomes this vicious cycle that even though they are learning, they are not moving forward. Students will ultimately sit exams, and we help them prepare mentally as well as academically. Exams are at least 1.5hrs and sometimes more, so it's crucial that we build the ability to focus for longer lengths of time from the get-go.

We also assess our tutors against some of the less obvious criteria, which gives us a real point of difference. We also don't place so much emphasis on qualifications given that sometimes tutors are just hiding behind them. For us, a good tutor is firstly a good person, someone who's passionate about teaching and ultimately brilliant at teaching. It doesn't mean we don't look at their qualifications, but rather we look at them in conjunction with their personality, attitude, work ethic and of course, teaching skills.
Does tutoring help?
That comment about kids struggling to keep up because they never consolidated a foundation really resonated with me. Schools move children on so fast in subjects – they can't help it, the class sizes dictate it – and I've seen that create problems for my own kids further down the line. As an example, with our handwriting problem, it wasn't until Evan developed confidence in his vocabulary, and his ability to come up with a good story, that he began to see himself as someone who could write. That just wasn't going to happen in time for the school environment to wait for him, so we had to intervene at home.
Is private tutoring worth it?
We've been extremely lucky over the last term and a half. Whilst schools are closed, and exams cancelled, our own school has sent a full curriculum of work every day, and my kids have been kept busy. I've reassured my daughter – who has GCSE's next year – that whatever happens, she will be in a good position compared to a lot of her peers nationally.
I'm so aware of that privilege though, and I know that many children won't be in as good a place, so there must be a lot of parents wondering if extra tuition might be a consideration. Nightingale Tuition might be one way of catching up on study progress lost during the Covid lockdown, and making sure you're not behind. Whether it's worth the cost is a difficult one. You can only decide that after you see the results for your own child. But I do think if a child is frustrated with their lack of progress, or worried about upcoming exams, it's definitely worth trying, if you can afford to stick with it for a couple of months to see if there's an improvement.
Try private tutoring before you commit
If you're interested in finding out more, Nightingale Tuition are offering my readers a free introductory trial lesson of 1 hour to see their methods first-hand. They know with all the services out there, it's difficult to choose, and hiring a tutor can be a big step, so this is the perfect way to test out options before subscribing to the service.
For more information, and to book your trial visit Nightingale Tuition and enter code AMFREE1 at checkout.