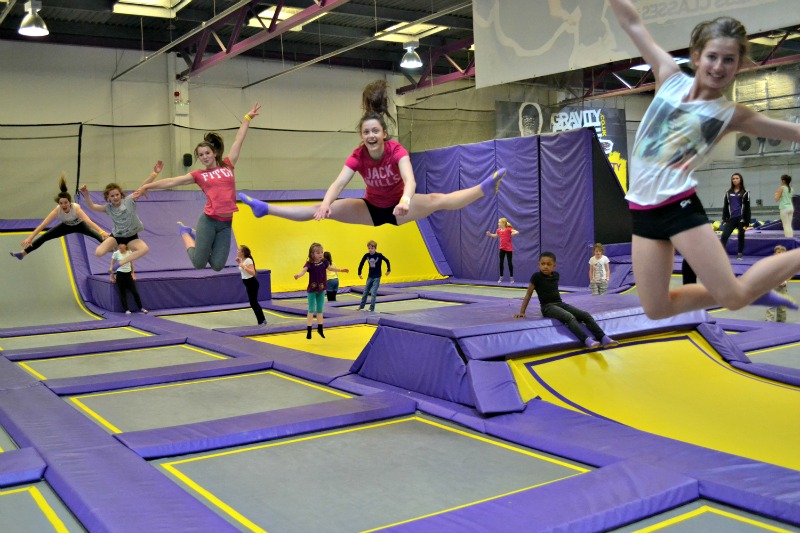 "Whether you're a freestyle pro looking to showcase an insane routine on the Tumble Tracks or an average Joe looking to get stuck into a game of trampoline dodgeball there really is something for everyone."
Does that not just make you want to jump? And that's just the adults! My kids cannot be the only ones to have recently discovered the craze for trampolining – it's the new rollerblading as far as they're concerned, and it's always top of their list when you ask them what they want to do with a free day. So they are beside themselves with excitement to learn that one of the newest centre operators, Gravity Force, is coming to St Albans.
Gravity Force has hundreds of trampolines, with a main court that allows you to leap from trampoline to trampoline, literally bouncing off the walls as you go. So when your kids are driving you nuts with boredom over the summer holidays, that's where you're going to want to take them. Tumble Tracks are extra long trampolines, bordered by wall pads so you can literally run and throw yourself at the crash pads to learn and perform tricks. Then there are basketball and dodgeball courts, and a foam pit for – well, who knows what?! I'll need to check that out and get back to you.
As well as fitness classes on the trampolines for adults, and the regular general jump sessions, Gravity Force run Gravity Tots, an organised session for under 5's, which sounds adorable:
In Gravity Tots sessions the park transforms into a cushiony soft wonderland of trampolines filled with bounces, tumbles, giant seas of foam, adventure and endless exploration all while the air is echoing with the enchanting sound of Disney classics and other toddler friendly tunes. Once a month the park becomes a haven for witches, wizards, superheroes, pirates and Disney characters for our extravagant and alternating theme weeks.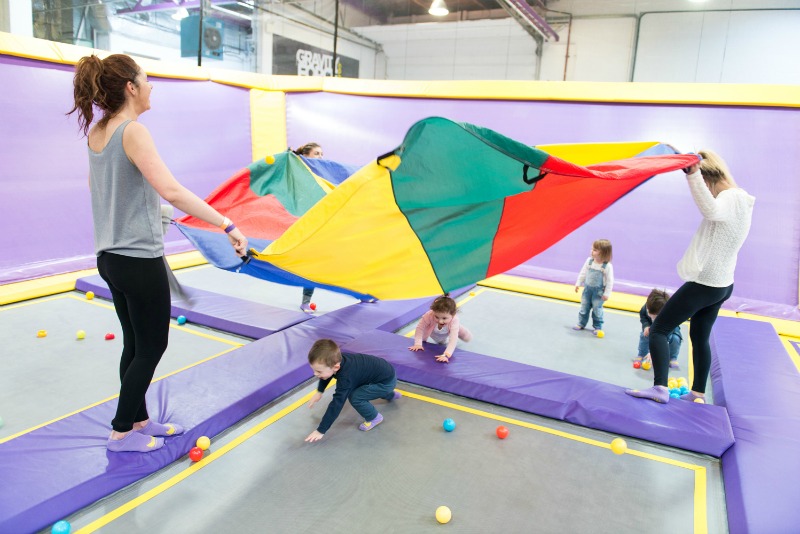 Then Gravity Sundown sees the park transform into clubland as teenagers are invited to jump to the latest tunes. I know, how uncool was that description? I'm definitely too old to go, and your teen definitely needs to check it out and let me know what's in store for me once GG passes the age barrier!
The new St Albans Gravity Force trampoline park is due to open on 17 August, and bookings are being taken now, with 50% off Gravity Jump, Gravity Tots, Gravity Fit, and birthday parties, if booked by Sunday 24th July, by using the respective codes – 'JUMP1', 'TOTS1', 'FIT1', 'PARTY1'. To book and find out more about the sessions available visit www.gravityforce.co.uk or call 0845 498 9049Use the codes – 'JUMP1', 'TOTS1', 'FIT1', 'PARTY1'. To book and find out more about the sessions available visit www.gravityforce.co.uk or call 0845 498 9049.
Gravity Force are offering four free jump sessions to one Actually Mummy reader, so you can try out the new craze for yourself. Simply complete the options in the Rafflecopter form below to be entered into a random prize draw.
*Gravity Force have given us some free jump sessions for the kids in return for running this giveaway. I will be sipping hot chocolate in the café at my own expense!