Last Christmas we gifted Actually Daddy a genius experience. A voucher for the whole family to go with him to see one of his favourite shows 'on the stage.' A signed up fan of all things Monty Python, he was always going to love the Faulty Towers Dining Experience, and we'd decided to make a weekend of it, spending the night in London rather than dragging back home with the kids on a packed late night train. As I hunted around for somewhere to stay after the show, it dawned on me that the hotel playing host to the production looked pretty good, so I made arrangements to stay there.
Amba Hotel Charing Cross
It was more than pretty good; it was glamorous, chic, and home to some of the friendliest staff we've ever come across. As I checked in, the hotel's porter proffered juice and water, and got busy telling my husband about the history of the hotel. I'm not sure how they strike the balance, but alongside the impeccable service, there's a feeling that if you met down the pub, any one member of the team at Amba might very easily become your friend.
Our room was ready, so we marvelled at the space in our family suite (a double sofa-bed for the kids, Hypnos-mattressed king-size for us), and admired the Strand view, before diving into London for a fun-packed afternoon. The children's favourite aspect of Amba at this point was the discovery that as well as being part of the Charing Cross station building, it stands right next to Villiers Street – home of Five Guys burger bar. Provided you don't suffer from peanut allergy, you will not get a better burger. Ever. Plus (and this is seriously important to a Type 1 diabetic) they have the best drinks dispenser, with no less than 9 flavours of diet Fanta – fizzy and still. My daughter tells me that she will have one in her kitchen, when she buys her penthouse flat in New York. I'm looking forward to visiting.
Bellies lined, we spent a happy hour exploring the South Bank and Wonderground, a slightly expensive-for-what-it-is, but nonetheless fun-for-an-hour attraction that saw the kids travel way higher than I ever would without the benefit of a jet engine and a lifejacket.
Living close to London, we rather tend to take it for granted, and don't stop to enjoy what visitors from further afield see. But we'd decided to make the most of our weekend, and finally took the London Duck tour we'd been planning to do for a long time. More on that another time, but I thoroughly recommend it. Our guide was knowledgeable and funny, and the 90 minutes flew by.
Back at the hotel, there was another lovely touch. Check in after 5pm on a Saturday, and the juice and water miraculously transforms to prosecco. Of course, I immediately wanted to check in again, and there was no quibble at all from the staff. A glass was duly handed over, and off we went to get ready for our evening. Not before we'd tried out the old-fashioned telephone box though (I say old-fashioned, but I remember very well pumping one of those with 2 pence coins for a secret conversation with a boy. Where was Whatsapp when I needed it?).
I wanted to indulge in snacks and soft drinks from the complimentary mini-bar (available in every room), but I was looking forward to our evening with Faulty Towers, so it was a quick waterfall shower for me, while the kids caught up on X-Factor news on the Smart TV.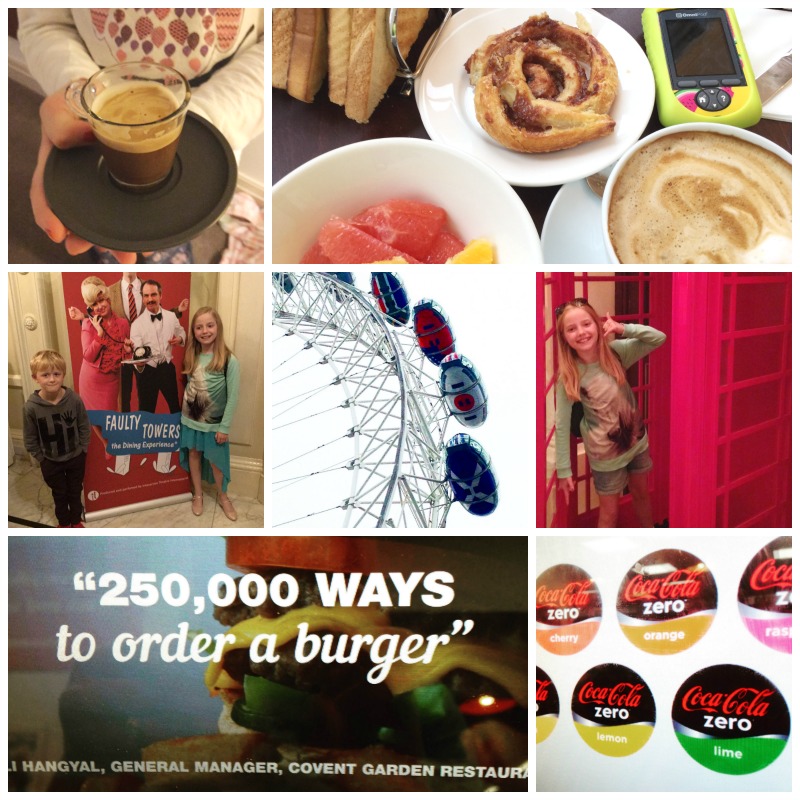 Our evening was hilarious – you can read about the Faulty Towers dining experience in this review – and it was a happy gang who settled themselves down for a good night's sleep. And it was a great night – you'd think being right in the heart of the West End (and on top of a major London train station) would bring with it a certain amount of noise, and we did hear a siren at one point, but really, it's not noisy at all. Or maybe it was the Hypnos mattress that took me off to dreamland.
Waking up was a joy too. I'm not good in the mornings until I've had a really – and I mean really – good cup of coffee. Amba knew this, apparently, and had been thoughtful enough to install a Nespresso coffee machine in all the rooms. My daughter brought me coffee in bed, and all was well with the world. It got even better as we indulged in pastries and an actual newspaper overlooking the Strand at breakfast, and I congratulated the couple drinking Bellini's for their anniversary at the next table. I have a hankering to go back for our own very soon…
We were guests of the Amba Hotel Charing Cross for the purposes of this review. All opinion, words and images are our own.