Photo by Paulo Evangelista on Unsplash
Whether you ready to travel or not at the moment, you'll know that the destination everyone is talking about in 2021 so far is Portugal. As one of the first countries to open up its borders to UK tourists, many holiday-makers have already fled there for a long-awaited break.
For those craving a bustling city break, Portugal offers the beautiful historic city of Lisbon – the jewel in the crown. Here are five reasons why Lisbon should be your next family destination.
It's a foodie heaven
Who doesn't love indulging in all the food on holiday? It's something the whole family can agree on and enjoy together. And there really is no better city in Europe for full tummies than Lisbon. No, really – CIA Landlord Insurance recently researched Europe's restaurant hot spots and Lisbon came out on top, with 9.7 restaurants to every 1000 people.
If you want to experience a Portuguese classic, their famous custard tarts are a must. Perfect to enjoy in the morning with a coffee, or as a sweet treat for the kids after all that exploring.
Photo by Felix Kolthoff on Unsplash
Art everywhere you look
Lisbon has been described as an 'open air gallery'. Not only are there beautiful tile-covered facades and cobblestone designs everywhere you turn, but Lisbon is also known as one of the best cities in the world for street art.
Exploring the streets of Lisbon will never become dull with the incredible murals on every corner. Whilst parents and adults can enjoy researching the context, history and meaning behind each piece of street art, kids can enjoy the bright colours and counting how many they can spot in a day.
It's affordable
We know that city breaks can be expensive – particularly with multiple mouths to feed. However, compared to other capital cities in Europe, Lisbon is favoured as a more affordable option.
With an enormous range of restaurants, you'll be sure to find plenty of options to suit any budget. Transport is affordable too, but the city's charm and culture can be enjoyed simply by walking the streets and following your nose, so no need to pay out for any tours.
It offers beach life
There's not all that many European capital cities that can offer city life and beach life. Lisbon is just a 20-30 minute drive away from some beautiful beaches. You can escape the hustle and bustle of city life to relax on the sands while the kids play in the sea or enjoy some kayaking.
Beaches that come highly recommended include Carcavelos, Cascais, Guincho and Costa de Caparica. Simply grab your beach towel and hop in a taxi.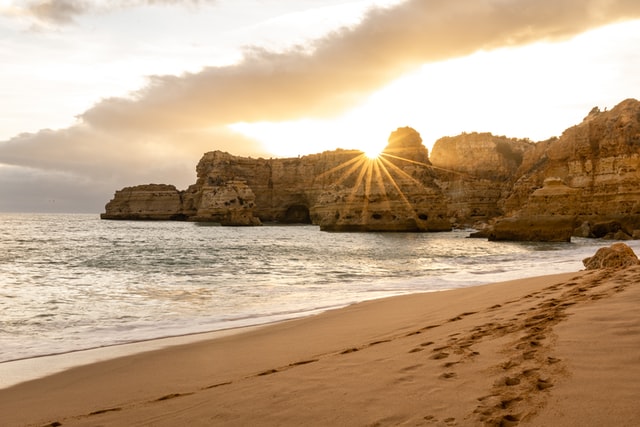 Photo by Tim ten Cate on Unsplash
It's the European Green Capital 2020
In 2020, Lisbon was awarded the European Green Capital. This is a city really making waves in sustainability, taking positive steps to clean up the city air and promote more green spaces. When you visit Lisbon, you'll notice electric cars prowling the streets and plenty of bike lanes. Green, urban living is a focus here.
Not only this but it's known to be a very safe and family-friendly city, suitable not only for families but for solo travellers too. With a noticeably warm, welcoming and inclusive vibe, you'll feel at home in Lisbon as soon as you step foot onto its vibrant streets.