This is my final post on Wot So Funee? So it needs to be a spiffing example of my literary and phonetic genius so that I can exit this meme in true loquacious style! And if you make it to the end, I'll let you into a little secret about where I am headed next!
My teacher (let's call her Mrs Coolcross – because she does occasionally read this blog, occasionally gets cross with me, but is actually quite cool) is a fan of craft. Craft, and the big outdoors. She has introduced us recently to Forest School, where we get to spend half a day outdoors, mucking about with mud and sticks. Apparently we are also learning, but for me it is a merry-g0-round of muck and mirth. For Mummy it is more washing 😉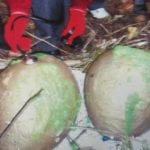 Anyway, Mrs Coolcross went to great lengths a while back to set up an experience where we would test our investigative reporting skills. Now, for a loquacious girl this was music to my ears.We found these 'eggs' covered in green goo; there was goo all over the playground too. We did some mucking about research, made some notes, and figured out that in fact it had nothing to do with our teacher and was all caused by a dragon choosing our school as a nesting place for its eggs. Obviously!
We then wrote up our reports for the newspapers, ensuring – as a proper investigative journalist should – a beguiling mix of sensationalism and erm, fact: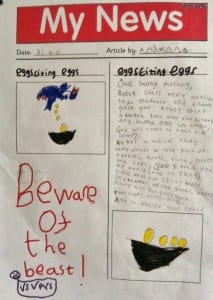 So, #funsters, do you want the fun to continue? Well get your funny posts ready because a brand new Sunday link-up begins this weekend! In it you can post anything you think will make us laugh: kids, grown-ups (tho grown-ups are plainly not funny unless they are dancing 😉 ), videos, photos, Michael McIntyre – if it makes you laugh we want it! And even more secret exciting news: this linky will be a double-up! Because another fantabulous blogger is joining me in hosting Sunday Funny – any guesses??? Get ready for #SunFun folks!
If you would like to join me in a funny post please add a link to this post from your own, and link up by clicking on the linky tool below. Steal my badge, and visit some more #funee bloggers. If you're new here check out the Wot So Funee? main page for more details on how to join in. Feel free to add any funny post you want to share. If you join in please tweet using #funee.
Click here to enter your link and view this Linky Tools list…
And remember #SunFun begins on Sunday 29 January