Grain sacks and a pommel horse make for lounging seats at Wringer and Mangle.
If you frequent London Fields in East London for its social scene, chances are you're more Superdry than Boden, drink Fever Tree not Schweppes, and prefer Snapchat over Facebook. But make the effort to venture a bit further east than your mainstream safety zone London staples, and you'll find two great levellers: Time Run – an against the clock maze of team challenges reminiscent of the Crystal Maze (find out more on Space In Your Case); and Wringer and Mangle.
Wringer and Mangle (review)
We had an hour to kill before our session at Time Run. Venturing out from the back alley of warehouses and makeshift office rooms that house the game, we wondered if we might find anywhere 'sensible' enough for a family to eat lunch. It's been too long since I knew where the cool places are, and even longer since I felt confident enough to open the doors and join the ranks inside.
Getting into Wringer and Mangle felt like a challenge for my street credibility, but – encouraged by a glimpse of buggies and swishy hair just through the windows – I persevered, and immediately relaxed as the bright space opened up into a series of different areas, each one welcoming in its own interesting style.
We had to ask where the toilets were – far too cool for us.
Wringer and Mangle is apparently better known as The Laundry, a basement club venue that might have tempted me to rent a flat 'out east' in my heyday, but a recent conversion has turned the vast open ground floor space into a very relaxed and chilled out bar/restaurant that feels as bright and laid back as it does hip and edgy. Time Out didn't like it, but I did. Our fellow guests included diners, the buggy clan, and a business meeting, and the mix felt very natural.
The presence of pastries and cakes on a bar top a few metres in told me that asking for food wouldn't be a complete surprise to the bar staff, and indeed, we were welcomed warmly, as if families were a perfectly normal sight. No one batted an eyelid as my blogging drive got the better of me, and I whipped out my camera for some shots of the eclectic décor, and wry signage.
Food was good (although my medium-rare burger bled onto my sesame bun for a slightly soggy pink base), nicely presented, and in my book reasonably priced at £10.50 for a blue-cheese burger and some really great fries. (Let's remember I'm used to West End prices). We were short on time, but that didn't present a problem for our waitress, who hurried along the Bug's Eggs Benedict and complied with GG's request to remove the egg and brown sauce from her breakfast bun. Sneaking in a couple of extra bacon rashers made her morning.
Other options included various all day breakfasts, artisan sandwiches, and the recently requisite avocado on toast – which despite the sneering it invites from restaurant critics remains my favourite lunch dish. I know, I'm a cliché. But I'm cool with that.
It wasn't until we sauntered out that I noticed the vast array of spirits that made me crave the weekend, and some rather dubious food products that I imagine were there more for decorative impact than sale, but which were nevertheless impressive to peer at.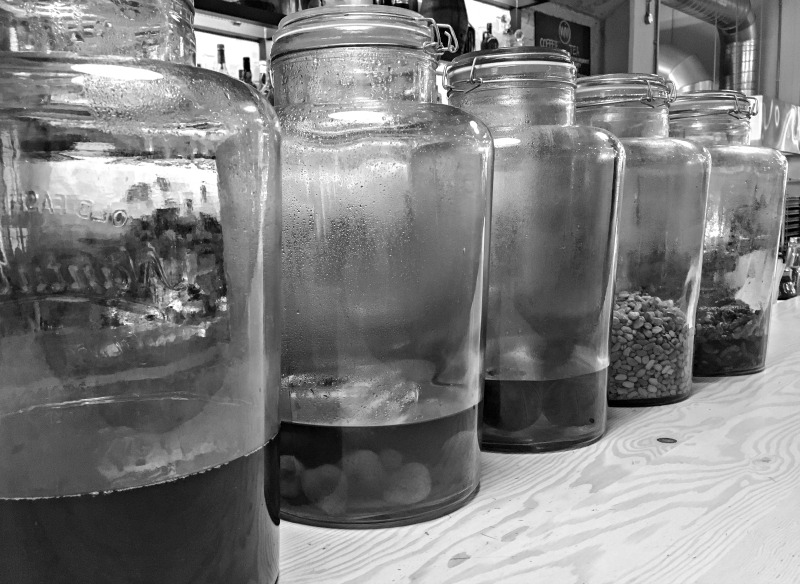 Pickled eggs and peanuts?
As we left I imagined a chilled sauvignon on the heated terrace, as I attempt to absorb some of the chic of my neighbours. But next time I go I want it to be Tom Collins o'clock on a Friday so I can lounge on those grain sacks and do some people-watching. Who knows, I might even stay awake long enough to make it into the club. Then again, my last train home is a pumpkin…
Wringer and Mangle's 'terrace.'
Wringer and Mangle is on Sidworth Street, E8. Go for cocktails, brunch, dinner after Time Run, or to feel like you've still got it.
Find more days out with family here.