Shhhh! It's Mummy here. This is a secret. I have just made GG's birthday cake. It has taken most of today, starting with the purchase of several packets of sweets for embellishment, and ending with a covert evening of eating decorating – what cake? Me, making a cake? No – why? The cake of choice came from Australian Women's Weekly Kids Party Cakes and is supposed to look like this: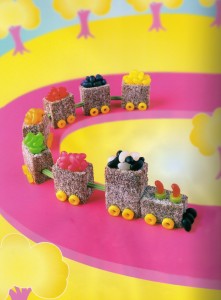 Well, not living in Australia, I don't have access to Life-savers, nor do I know what a lamington is, but I bought every kind of sweet available that looked vaguely promising, before discovering Fruit Polos – who knew they still sold those? Here is how mine looks:
Thing is, GG had the idea that we could make a jelly-bean-stuffed lamington for each party guest. I was up for that until she invited 21 friends. So I have made it according to the script in the book – it is fortuitous that there are 7 – one for each candle. To get round this problem, the guests will see, but not eat this cake. I have bought a Morrison's tray cake to wrap in napkins and send home – does that make me a bad Mum?
Will she like it? Will it be ok? Will it be worth the aching back, the sugar-sweats I am in for tonight after consuming all the spare sweets. Will she be disappointed that her friends will not each take home a little carriage of their own? Worse – will her friends judge her for my lack of perseverence?
Will I survive the party?
😕
PS: I debated the title for this post for a while. I really wanted to call it 'Am I a Bad Mum?', but when I googled it I came up with this: Am I a Bad Mum? Check it out – you will see that we are all bloody amazing parents by comparison!