Tara's theme at the Photo Gallery this week is the letter T. T for Tara, T for Toys, T for Trees…. In a rare guest post here today Mummy ponders the passing of time – and realises that she has no idea where it has gone! Is time running out?
GG, what has happened to you? It seems like only a couple of years ago that we brought you home on your Birth Day. In your new car seat, wearing your new Mamas & Papas snowsuit, with your brand new fresh skin. Eczema, asthma, chicken pox, scarlatina, several bruises, and some return visits to that hospital have all passed since then. A lot of time has gone by – and the new things on your birthday have changed so dramatically!
Birthday number 1: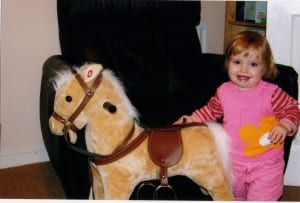 Sweet, childish, a treasure to be kept forever… Is time running out?
Birthday number 2:
Still innocent, even cuter, dressing up and beginning a love of make-believe. Is time running out?
Birthday number 3:
Still fanatical about dressing-up, but getting brand-savvy already. Is time running out for me to show you that although I hate role-play, and its "then you kiss me, then I wake up, then we get married" repetition (yes, I know, wrong princess!), I love you, and I will do anything for you? Even role-play. In a minute. I promise…… Is there still enough time?
Birthday number 4: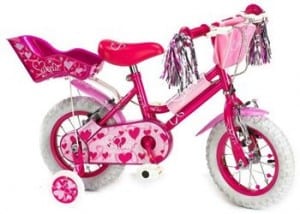 Oh my little girl! You have your first bike! With pink glittery streamers and a 'bebear seat' because Bedtime Bear goes everywhere with you. Those stabilisers are gone now, you cast them aside with pride (but Bebear still hugs you tight at night). Is time running out?
Birthday number 5:
Way more sophisticated now. You can do more stuff with this thing than I can – and you can't even read the instructions. Times have changed and now you are the instructor, and I am content to let you show me the way. Is time running out?
Birthday number 6: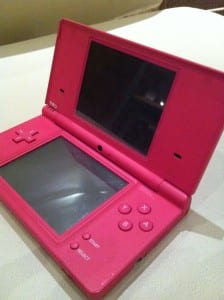 Oh no! Already? Last year all the kids in school got their own iPod and I fobbed you off with a kids camera. This year I made up for it big-style. But I am frightened now. Is time running out?
Birthday number 7:
This is what you wanted. And I almost sighed with relief as I handed over the cash for this over-priced ton of pink plastic. Yes, you have a DSi, you know your way around an iPad better than me, and you are toying with the idea that pink clothes are not cool anymore. But you are still a little girl who loves to play with dolls. You are still my baby girl. There is still time….