Today I am featuring a guest post from my friend C, who likes to play detective games:
That made complete sense, right? No? Try this:
God I love phonetics!
If you would like to join me in a funny post link yours up by clicking on the linky tool below. Steal my badge, and visit some more #funee bloggers. If you're new here check out the Wot So Funee? main page for more details on how to join in. Feel free to add any funny post you want to share. Just include a link back to this post or paste the #funee badge into your own.
Click here to enter your link and view this Linky Tools list…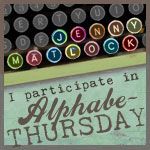 This week, in honour of C and her police detective work, I is for Inspector over on Alphabe-Thursday. With writing like that I'm sure she'll soon make the rank!
I am also linking this post to Mummy Mummy Mum's Friday Funny. You can find her badge in my sidebar.