Our friends
I once had a conversation about family with my mother-in-law. She is a lady who sets great importance in family. To her, family takes precedence over everything. I get it – my own mum (and goodness gracious my Dad!) would have been the same, if I'd let them get a word in edgeways. And yet, I argued with her; I think that as generations have moved forward, as children have flown the nest further afield than they once would, there is a new kind of reliance on friends. Where once, mine and my husband's mothers would have almost moved in after the birth of my first child, to do my washing, cooking, and let me sleep, it was friends – closer geographically – who offered a different kind of support. Friends couldn't offer the hours a parent perhaps could, had they lived nearby, but they offered us untold emotional support, and helped us through the early years of parenting. We couldn't have done it without them.
The Log Trail at Kew Gardens
It was with friends (the Mammasuarus family, to be precise) that we visited Kew Gardens this week, with the express purpose of joining in with Samsung's 100 Days of Family. As Samsung launch their Galaxy K Zoom phone they are "celebrating the diversity of the modern British family life" by inviting 50 families from across the country to tell their unique stories through the lens of the Galaxy K zoom's professional grade camera. And we're giving away tickets for a family of 4 to THORPE PARK RESORT so that you can create your own day of family fun. Just scroll down to the Rafflecopter gadget to enter the draw.
Knowing that there would be fabulous photo opportunities, I decided that the new family features at Kew would be the perfect showcase for what the camera could do, and what better family to spend a summer day with than Annie's, the first good friends we made through blogging.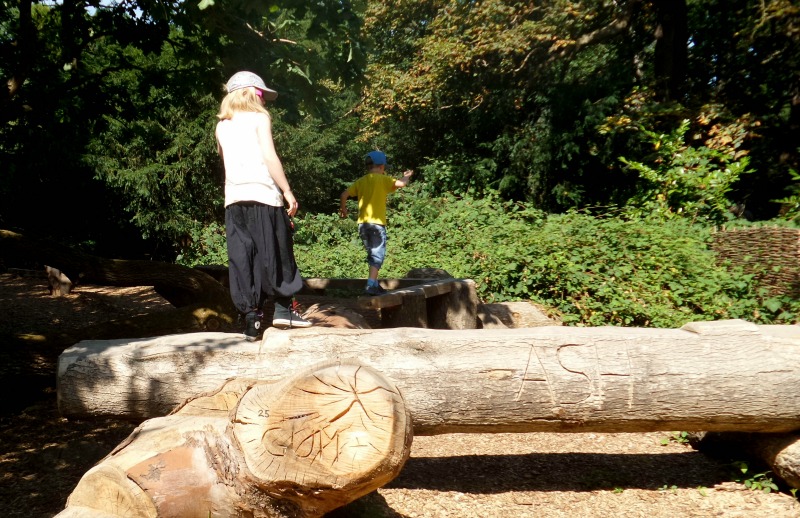 Kew Gardens have installed a new area called the Log Trail. Aimed at inspiring children to discover, and linger longer in trees and nature, it features a climbing and balancing course made entirely of storm-felled trees from the estate. It was intended to take 3 years to complete, but the recent storms have been turned into an advantage – lucky the staff at Kew are enthusiastic designers and don't mind putting in the hours!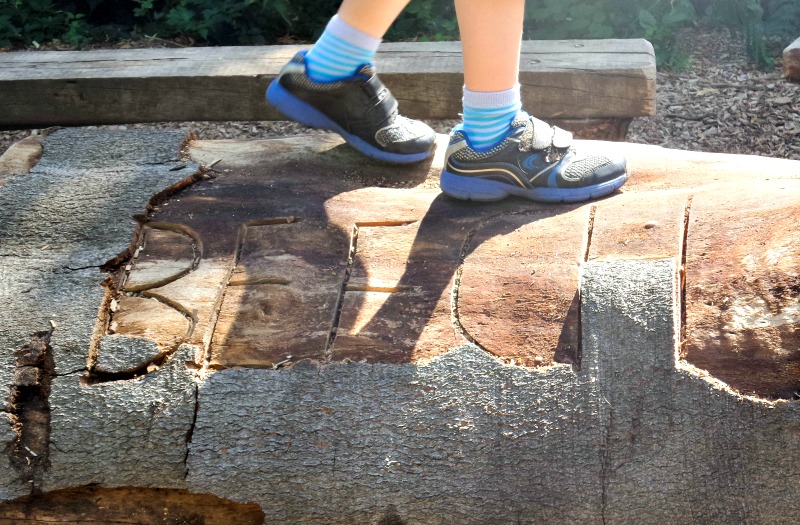 Each tree type is engraved and there is so much for children to learn as they leap, crawl, and balance their way through the course. Have your children ever climbed on a gum tree?!
 Log trail sculptures at Kew Gardens
As well as climbing, there's crawling, and photo opportunities. I'm told Annie's children fight shy of the camera (too much lens pointing from their mum, I fear) but Ozzy couldn't resist joining in with my two for a 'holey tree trunk' medley.
Hollow tree trunk
As well as the Log Trail there is so much more to a family day out at Kew Gardens. Next up was the Barefoot Walk, a feature which child-focused bravado saw me embark on, as I feared the worst. In fact, I loved it, and it was my children (and Annie) who talked me out of plunging through the muddy bog!
And the fun wasn't over. For £3, children can take part in an hour long Lotions and Potions workshop over the summer. We learned about the healing properties of comfrey, and made and took home a small pot of what GG labelled 'Ouch Cream.' It will be well-used!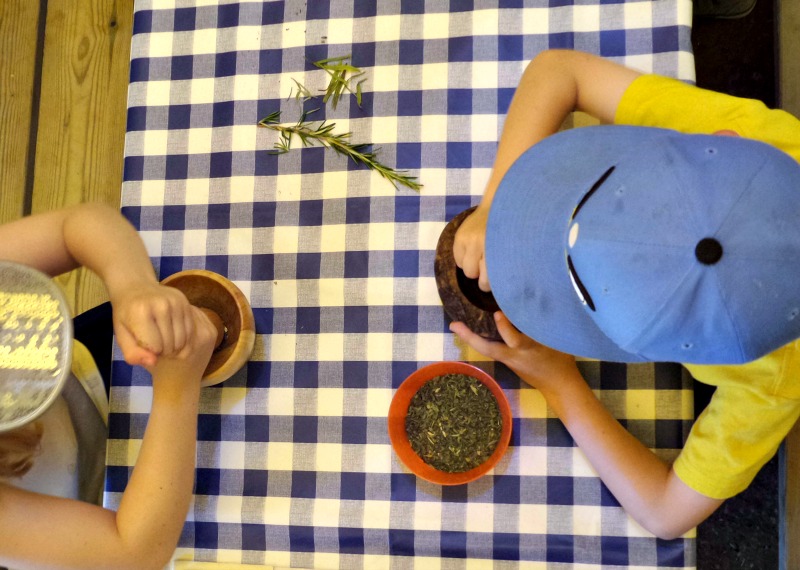 One of the things I'm enjoying about the Galaxy K Zoom is the suggested pro features. As you go to focus a shot, the camera will suggest some effects you can add, before taking the photo. No more basic Instagram filters required!
So, there's lots to do on a family day out at Kew Gardens. But, if you're a flower-friendly adult, do you still get to check out what you went there for? Totally – look at this:
After a morning discovering Kew Gardens from the children's point of view, and a picnic, Annie and I were able to explore the gardens and greenhouses.
Provided, of course, that we stopped off to climb every single likely-looking tree. I'd normally be switching macro and zoom lenses on my DSLR to get shots like these, but the Galaxy K Zoom did a great job of getting the shots I wanted. It has a zoom lens built into the back of the phone, which elicits quite a lot of interest from passers-by, I can tell you!
And dotted around the estate we came across the most delightful little features to inspire our young families. I'm still getting to grips with the numerous options on the Galaxy K Zoom, and remembering to select a focus point slipped my distracted mind a few times! I'll keep you posted over the summer as I learn about my new camera phone.
All of these images were taken on the Samsung Galaxy K Zoom. Annie has posted some of her photos here, and whilst I'm always in awe of her pictures (we have the same DSLR) I think these stand up really well. And they're from a phone camera! I know my iPhone couldn't have done this good a job.
So, are friends the new family..?
To win your own day of family fun, simply complete the options in the Rafflecopter form below. The giveaway ends at midnight on 17 August, and the random draw will be made the next day. Good luck!
 Kew Gardens costs £16.50 per adult, children go free, apart from the workshop, which is £3, bookable in advance.
We were given free entry to Kew Gardens, as well as a free Lotions and Potions session, for the purposes of review. We were also given a Samsung Galaxy K Zoom for the purposes of review. I suspect GG will be hankering after its ownership very soon. All opinion, editorial, and images are our own.