I am nicknamed "The Hoover" in our family, due to an innate ability (Daddy has it too) to consume favourite foods before Mummy has even made it to the table. Pancakes hardly hit the sides, as demonstrated by the rapid demolition of my  'Crêpe Citron Chantilly' in Brittany last summer. So you can imagine my enthusiasm and impatience for Pancake day to arrive. So much so that we actually did it a week early!
My plan was to have pancakes for breakfast (of the griddled, blueberry and maple syrup variety), something random and forgettable for school dinner, and pancakes for tea. 8.09am saw us ramming in a hasty spoonful of Cheerios, so we were already on a losing streak. Our compensation was a tea consisting of a main course and pudding made entirely of pancakes!
Now, we have several suggestions for main course pancakes, but we went with ham and cheese. As you can see, it is rather simple to add vegetables, particularly if you combine your pancake celebrations with Red Nose Day. We devoured this guy, and asked for more. We used a basic pancake mix:
125g plain flour
1 medium egg
300ml milk
Beat together all the ingredients until smooth, then ladle enough into a greased frying pan or griddle to cover the base. It takes about 3-4 minutes to cook one side, after which you toss (1), sprinkle with cheese (2), add ham (3) and cook for about 1 minute, before folding and decorating. Our pancake man had carrot top hair, wore yellow pepper pants, and had a ketchup smile!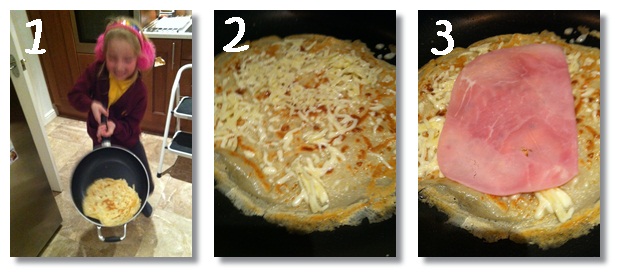 Now, if you are an adult, and allergic to the old faithful ham and melted cheese, you could always add mushrooms or leeks, or even try one of these more adventurous pancake fillings:
Pudding for us consisted of melted chocolate drops (done in the same way as the cheese) with freshly squeezed orange juice – Chocolate Orange pancakes! Quick, simple, and a bit different. However, on our travels we have discovered some of the most incredible dessert pancake dishes. I urge you to try some and tell me which is the best, quickly, so I can choose it for my pudding on the actual pancake day:
For breakfast: So, there's enough there to accommodate any appetite for a single meal on pancake day, but if you are an early riser, I can totally recommend these Breakfast banana pancakes from the Crazy Kitchen.
For fun with the kids try:
Pancake Pie – layering pancakes with different fillings
The science of pancakes – exactly how you get those fluffy delights, and what it all means!
Creative pancake decorating – you can make anything you want!
For weight conscious pancake eaters there is even a healthy pancake recipe, and if you're pushed for time, there are even pancakes you can make in advance and reheat.
What are you waiting for? Go grab a whisk!