Premier Inn Harrogate is pink!
Can we really afford a weekend away?
Staying away from home is expensive, and when you factor in a couple of kids the price often makes the whole adventure financially too stressful to bother with. Especially if you need more than one night to make the trip worthwhile. We travel a lot as a family; it's part of our way of making memories that last for all of us, and of making the most of our children, before they decide their parents are too dull to spend time with! And whilst we love a luxury hotel, we have to choose our trips carefully, to make sure that when we're spending a lot, we really enjoy it.
Budget hotels now offer more than the basics.
But one of the things we love doing with  a spare weekend is a city break. We'd go away every weekend if we could – there's nothing better than exploring a new place together, or even revisiting a favourite old haunt, and rediscovering it through the eyes of our children. In these cases, the emphasis is not on the hotel experience, but on the location, so budget hotels are our go-to choice. That said, I'm not a floor-dossing teenager any more, and trust me, you do not want to spend a day with me after a bad night's sleep!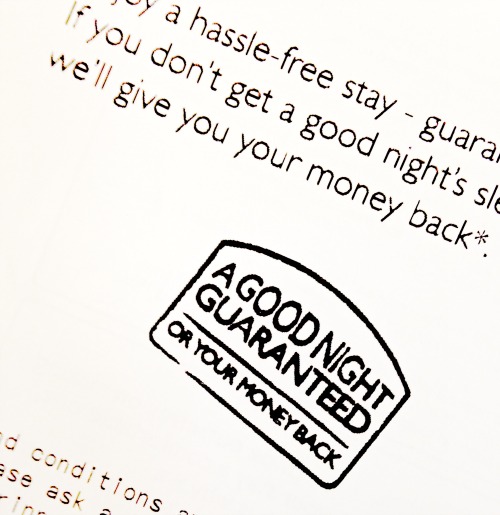 This is the promise given by Premier Inn. As we checked into the Harrogate hotel last weekend (speedily, I might add) this was the receipt given to me by the very friendly member of staff at the desk. Impressed by such a bold claim, I was eager to get to our family room and find out if it could be substantiated. It could.
When you're living out of a suitcase – especially if you're with children – and desperate to get out and explore your venue, you need to know that your hotel has the comfort and convenience you need. These are the luxuries that make a difference to me:
Budget Hotels with little luxuries.
A comfortable bed! This one is a no-brainer, and Premier Inn nailed it. A decent-sized bed that both of us could sleep in without annoying each other. Various pillows so we could each find our perfect neck rest, and even spares. I can't be the only person that needs 3 pillows in my bed to be comfy, can I?
Space for the kids: our room had enough space for the children to sleep alongside us, in a proper bed each, of equal comfort. I know some people who want separate areas for their children, so they can relax after bedtime, but actually, with slightly older children, it's wonderful to spend the evening together, then snuggle up in bed to watch X Factor as a family!
Safety and security: Premier Inn give you a swipe card that you use to get through various doors. First, from reception to bedroom areas, then to open the lift on the ground floor, and again to get from the lift lobby to your room corridor, before finally unlocking your room. I call that pretty lock-tight, and it means I can rest easy knowing my children are safe, and I don't have to cart my entire belongings into town with me when we go out.
A place to plonk my toiletries: It's going to sound tiny, but the little things make a difference, and I've lost count of the times I've had to balance my hairbrush and make-up on the bath rim whilst brushing my teeth in a tiddly sink. Add in my husband's array of contact lens paraphernalia, and I've got no chance of finding a spot for my deoderant! Premier Inn have what I call a decent worktop space in the bathroom, next to the sink. His, mine, and theirs all easily accommodated, thank you!
Shower gel: when you're packing for a family, you pretty much always forget something. Once it was underwear, and we spent a very odd couple of hours in a Spanish tourist town trying to find knickers in amongst the flamenco dolls and castanets, but we won't go there for now! Budget hotels would normally be on my list of those I'd need to pack my own shower gel for, but not so with Premier Inn. Shower gel, and soap, both in a nice gel dispenser, leaving much more room in my bag for perfume! And calpol… 😉
Food on site: we didn't eat dinner at our hotel, but the menu looked great, and the kids argued a good case. Sadly for them, I'd spotted a restaurant that sold lobster, and nothing was going to deter me. Although I did have regrets the following morning when I found a stinking lobster claw hiding in The Bug's anorak pocket! We breakfasted, and I can tell you that the food is hearty, unlimited, and the chef knows how to cook eggs. Oh, and the coffee is decent too.
What might all this luxury cost, you ask? Well, it depends on when you book, but with Premier Inn you pay per room, not per person, so our room, which was perfect as a base for a family of 4, can be booked for as little as £29.99 per night.
And if that wasn't enough (although it's entirely irrelevant to anyone but me) here's the cuteness that happens when you wake up in a hotel room with kids. One, two, three, aaaaaahhhhh!
For more information visit the Premier Inn website. Our stay at Premier Inn Harrogate was free of charge, for the purposes of this review. All opinion, editorial, and images are our own and may not be used without permission.