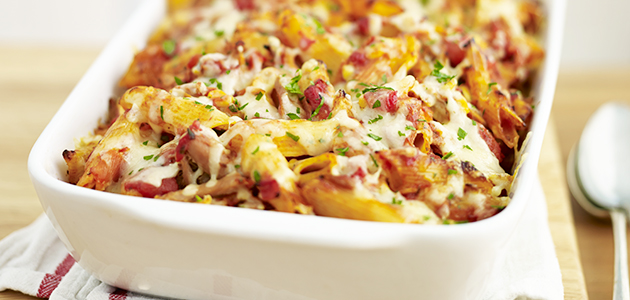 How to feed the whole family with just one recipe
All hell is breaking loose. You abandoned any attempt at creative play hours ago and the bickering upstairs would indicate that a full-scale atrocity is underway. Homework litters the kitchen table and a million Hama beads are skating under the fridge. To make matters worse, it is 5 o'clock and the freezer is offering you nothing but a bald fish finger and some chewy-looking ice-cream.
Plus it was Friday food at school today, so pizza isn't an option, and Actually Daddy will be home looking to be fed in half an hour too. The knee-jerk reaction, of course, is to pour the last of the Pinot Grigio into a glass and open a packet of posh crisps in the hope that inspiration will strike, but sadly I've found that procrastination only serves to heighten the hunger-fuelled tension. Although the wine does at least take the edge off how you feel about that.
THIS POST CONTAINS ADVERTISEMENT CONTENT
We were compensated for creating the video below.  However all opinion, words and imagery are mine. 
I'm on a mission to stop creating 6 meals a day. My kids need to learn how to eat what the grown-ups eat, and we need to meet them halfway. Now The Bug will famously declare Wagamama's Chilli Squid his favourite food, but I'm aware that he is weird in this respect. GG is a steak and veg kind of girl, but unless we sell the house we can't afford that style on a daily basis, so I'm on the hunt for decent, easy, inexpensive food that all of us enjoy.
I was recently asked by Sainsbury's to create a video demonstrating a simple family recipe. I chose their Tuna Pasta Bake recipe, which looked simple to make, and contained nothing that my children could complain about. You can follow the steps we took in the video, or there is a link to the original recipe below.
As you can see, I had one or two interesting helpers!
Easy Tuna Pasta Bake Recipe: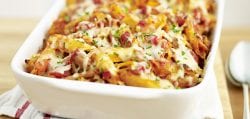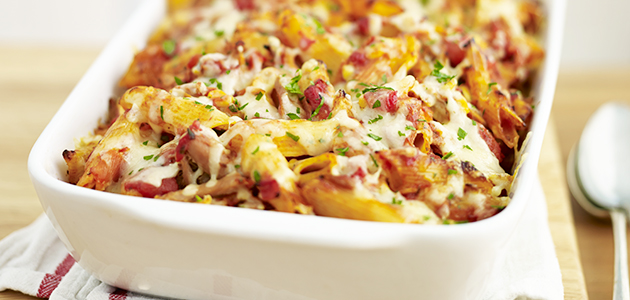 Easy Tuna Pasta Bake recipe
An easy and inexpensive pasta dish that all the family can enjoy.
Ingredients
300

g

Italian fresh egg penne by Sainsbury's

1

x 500g jar basics tomato pasta sauce

2

x 185g tins basics tuna chunks in springwater by Sainsbury's

drained and flaked

2

x 198g tins sweetcorn in water by Sainsbury's

drained

½

x 28g pack fresh flat-leaf parsley by Sainsbury's

leaves picked, washed and finely chopped

1

x 390g carton Italian chopped tomatoes by Sainsbury's

100

g

mature British Cheddar by Sainsbury's

grated
Instructions
Preheat the oven to 200ºC, fan 180ºC, gas 6.

Bring a large pan of water to the boil, add the pasta and cook for 8 minutes. Drain.

Tip the cooked pasta back into the pan and stir through the pasta sauce, tuna, sweetcorn, chopped tomatoes and half the parsley.

Tip the mixture into a 1.5-litre baking dish and sprinkle the cheese over the top.Cook for 30 minutes, until golden and bubbling.

Garnish with the remaining parsley just before serving.
Easy, quick to prepare, and inexpensive. Now where did I put that wine…?
THANK YOU FOR READING
If you've enjoyed this post and found it useful here are some ways you can say thanks and support Actually Mummy:
Click here to buy me a virtual coffee.
Join our Teenage Kicks Facebook group which includes lots of advice and support for parents of teenagers. You can post your own problems and advice here too.
Click here to leave a review of the Teenage Kicks podcast.
Click here to sign up to our newsletter packed with tips, ideas and support for parents of teens.
Share this post with your friends.
Disclosure: we were compensated for creating this video.