Like lots of families, and with travel restricted in 2021, we cut our losses this year and decided to stay at home. To make the most of our downtime as a family we decided to upgrade the garden, and the first thing on our list to install was an outdoor pizza oven. A pizza oven has been on our radar for a while (along with the hot tub of dreams!) but I've always wondered whether they're as good as the hype, considering the cost. In short, is are outdoor pizza ovens any good?
It turns out they really, really are, but you need to do your research and get the right one for you. Read on for our experience of the Gozney Roccbox, plus our video unboxing and setup of our new pizza oven.
What kind of pizza oven do I need?
First things first, if you're going to get a pizza oven for your garden I'd advise being serious about it. There are lots of brands available, from small portable ovens suitable for camping trips, to built-in wood-fired ovens that take up a lot of space. Decide what you need your oven for, what you have space for, and what your budget is first.
PIN FOR LATER
We wanted a proper stone-based oven because we knew it would produce that really crispy, authentic base you only get in the best Italian restaurants (usually in Italy!) You will pay a little bit more for that, but it really is worth it. I once used a little portable metal pizza oven with wood chips that was sweet, but took an absolute age to produce quite a soggy dinner. The Roccbox is not that!
Advertorial content: I was gifted the Roccbox by Gozney for the purposes of review. Words and images are my own.
How does a pizza oven work?
Next you need to decide whether you want a wood-fired pizza oven, or if you want your pizzas powered by gas. The Roccbox comes with a choice of either a wood burner or gas attachment. We went for gas, for the sake of simplicity, but for £100 extra we could upgrade to the Gozney wood burner to give us that extra authentic flavour. The gas and wood burning options are easily interchangeable – scroll down or click to watch our unboxing video to see how.
You need to connect a propane gas canister (easy to find at a camping or DIY store, and easy to connect to the supplied hose), and then you can get cooking!
The secret of a stone-based pizza oven like the Roccbox is the heat. Each time we use our oven we turn the heat up to high for around 20 minutes to bring the oven to around 400 degrees centigrade. Once we're at that temperature we're literally cooking on gas. From this point each pizza takes only 2 minutes to cook, so the whole process becomes a real family affair as we sit and chat while one of us spins pizzas on the stone. Sharing is advisable!
Watch us unboxing and setting up the Roccbox to see how easy it was to get started:
Are homemade pizzas really as good as you imagine?
I'll admit that whilst I had great hopes for our new pizza oven, I was skeptical that I'd be able to create a pizza as good as the restaurants. I'm being completely honest though when I say that even my first efforts blew me away. I used the pizza dough recipe instructions on the Gozney website, and followed the instructions for the oven (there aren't many – just heat and cook!) and got pizza that was light, fluffy on the inside, and super crisp on the outside. Honestly it was perfect!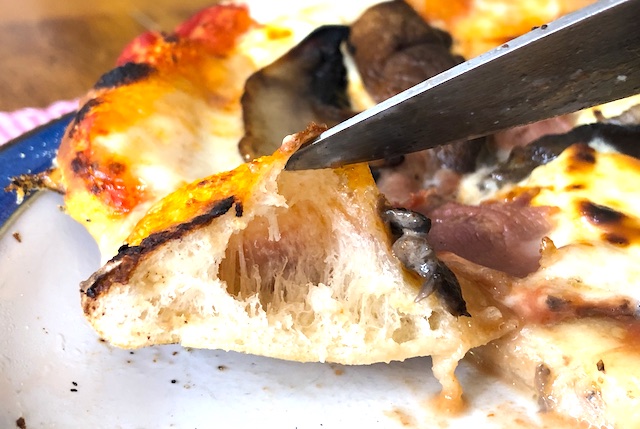 This was our first pizza. I didn't photograph the whole thing because it turned out that my stretching and rolling skills needed some practice to make the perfect round base. Ours was more of a Barbapapa shape, with holes! As the summer has gone on, I've got better at shaping my pizzas, and at knowing the right timings in the oven. Here are my tips for making restaurant-grade pizza:
Tips for using a pizza oven
Make your dough the day before, and make sure it's at the right temperature before you shape it. Gozney advise to make dough at least 6 hours ahead, store in the fridge, and bring to room temperature for 2 hours before use. I've made the mistake of using it straight from the fridge, and you don't get as good a rise. I've also left it out for too long, which made the dough difficult to manipulate and far too stretchy – that was the cause of the holes!
Use 00 bread flour – normal flour doesn't have enough protein to give your dough the stretch it needs.
Make sure your pizza oven is the right temperature. The Roccbox can get to 500 degrees C, but I've found that around 400 is perfect to get a crisp base without burning any of your edges.
Set everything up before you make your pizzas. Pizza sauce, toppings, cutting boards, table set, wine poured – everything needs to be ready to go, a bit like a stir fry. Once you start cooking it's all over very quickly so the more prepared you are, the more smooth your production line will be.
Use a turning peel. The Roccbox comes with a paddle for sliding your pizzas onto the stone base, but you'll need a turning peel to keep it moving and make sure it's cooked evenly. I've found that leaving it for the first 30 seconds allows the base to cook enough not to stick when you try to turn it, but after that you need to be turning your pizza every 10 seconds or so. It will be done in around 2 minutes.
Practice! I still don't make pizzas that are all the same size and shape, but they're more uniform than they used to be. Don't give up – you will get better, and in the meantime whilst they may not look perfect, all those pizzas taste just as delicious.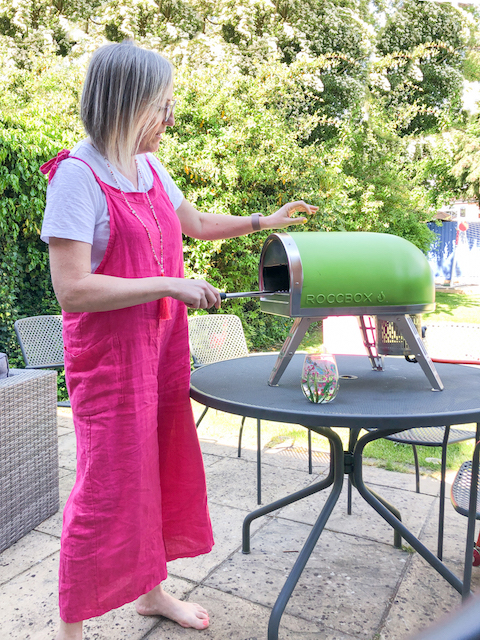 More tips on making the perfect pizza at home
Experiment! We started with basic Margherita and Pepperoni to keep things simple, but when we had dinner guests we decided to be a bit more adventurous. I set up a station with choices including marinated prawns, anchovies, black olives, griddled peppers and artichokes. Ideally you'll train a sous-chef to add toppings to the pizzas and keep them coming while you cook!
Can you make pizzas suitable for vegans in the pizza oven?
Absolutely! Whilst I'm not vegan, I do have some food intolerances, and dairy is one of them. Occasionally I treat myself to some good quality mozzarella, but most of the time I use a vegan cheese substitute and it works really well in the oven. I also need to avoid tomato, but I've found that some roasted red peppers whizzed up in the blender with herbs and garlic works just as well as a pizza sauce.
Check out this article for vegan pizza recipe ideas.
Can you make a gluten-free pizza in the Roccbox?
Yes. Just use a gluten free flour in your dough, and use a gluten free recipe. We've tried a few recipes and the Roccbox has coped well with all of them. You can also use ready made pizza bases in a stone-based pizza oven so if you have a trusted favourite just use that.
More ideas for homemade pizza toppings
For a change I've often made a tomato-free pizza using vegan cream cheese as the base, with fried mushrooms and thyme. It's delicious! You could use standard cream cheese for non-vegans, or even make a homemade pesto using basil, olive oil and garlic.
We've also tried a dessert pizza, which we saw made by a local pizza business at our market. Adam from Peddling Pizzas makes an epic Biscoff Bad Boy pizza – think custard, Biscoff spread, sliced bananas and crushed Lotus biscuits. He does it better than us but we're convinced if we practice enough it will be worth it!
What else can you do with an outdoor pizza oven?
Lots! It turns out pizza ovens don't just cook pizzas. In fact, we've found that the best use of the 500 degrees heat setting is a ribeye steak. Searing the steak directly on the hot stone, with the flame above, creates the crispiest, but juiciest steaks we've ever cooked. I've never been able to get the balance right between a crispy outside and the rare steaks that my family likes on our griddle. But the Roccbox nailed it. Rare but with no blood, and all the fat rendered to a lovely crisp. Just call me a steak expert – as long as I do all my steaks in the pizza oven!
Gozney also have a recipe section with ideas for lots of things other than pizza. Baked camembert, Roast Cauliflower, and even Cinnamon Buns can all be baked in the outdoor pizza oven, so it's much more versatile than you'd imagine. Subscribe now to follow along as we experiment and create our own pizza oven recipes here.
The Roccbox is also portable, so it would be easy to take on a camping trip, or for pizzas on the beach. It comes with a sturdy carrying strap that makes the weight easy to carry, and the legs fold down flat so it's easy to store. You might think this would mean the legs feel flimsy, but they don't at all. They're firm and solid when extended, but easy to put away when you need to move the pizza oven.
Is a pizza oven dangerous?
Well, you wouldn't leave a child to cook with it, but Gozney have thought of everything to make the searing heat needed for the perfect pizza as safe as possible. The outside of the Roccbox is covered in a silicone layer that makes it safe to touch even at the highest temperatures. And the turning peel has an extra long handle to keep hands at a safe distance from the metal front of the oven. Keep the oven on a solid surface and you shouldn't have any problems.
The Roccbox pizza oven retails at £399, including the gas attachment. It comes with a paddle to insert the pizza, but I'd also recommend buying the turning peel at £49. You'll also need to purchase gas separately, and I'd recommend a cover – Gozney do a bespoke cover, but we're using an old barbeque cover for now. Find out more at Gozney.com. (Prices correct in August 2021).
You might also like